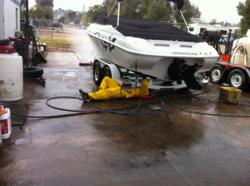 "These are the dirtiest boats we've seen in 19 years," said Joel Shorey, President of Wash On Wheels.
Denver, Colorado (PRWEB) November 06, 2012
Colorado's boat cleaning starts when the boating season ends, in November for most lakes and reservoirs. Boats that have been in the water all year must be pulled out. All boats at Chatfield Marina have to be removed from the water by November first to avoid potential freezing issues.
Lower runoff from mountain snow packs has resulted in less water flowing through reservoirs than normal. This caused more algae growth to stick to the boats.
Most boat owners need to get the algae buildup off the underside of the boats before putting them into storage. Wash On Wheels noticed this year the boats were harder to clean than expected. Boat cleaning is taking up to 50% more time than before.
"These are the dirtiest boats we've seen in 19 years," said Joel Shorey, President of Wash On Wheels.
Lakes and reservoirs on opposite sides of town are usually fed from different rivers with different water flow rates. This changes algae growth and accumulation and often requires different cleaning procedures. In the Denver area, boats that come out of Cherry Creek Reservoir rarely come clean with the same material used at Chatfield Reservoir.
Some boat owners choose to do their own boat cleaning. Taking it to the local car wash is one option, although most car washes don't have enough pressure to get a boat clean. Car wash pressure is usually limited to the 700-800 psi range so decals and pinstripes aren't blasted off cars. The professional pressure washing machines used by most boat cleaning companies will have 3-4 times that amount, around 3000 psi.
In addition to the higher pressure needed, boat washing uses different materials than washing cars. Car wash soap is usually ineffective – and some boats need more than one material for complete cleaning.
Finding the right material and procedures for each boat can take a lot of time and effort. While some boat owners enjoy that challenge, most find having a professional boat cleaning company do the work results in a cleaner boat.
Many owners have their boats detailed at the same time the underside is cleaned. Besides buffing and polishing the exterior gel-coat, boat detailing can include cleaning the interior seats and carpeting.
Wash On Wheels has been in business since 1985 and has washed boats in the Denver area and Chatfield Reservoir for 19 years. They're the only company with the environmentally safe procedures to wash right at Chatfield marina. They receive a special permit for "Commercial Power Washing For Vessels" issued by the US Army Corps Of Engineers and Colorado Parks And Wildlife Department.
2012 boat cleaning in Colorado is taking more work than ever before due to lower snow melt allowing higher algae growth. For more information, contact Joel Shorey or visit http://www.washonwheels.net.
Wash On Wheels is Colorado's largest mobile pressure washing company. In business since 1985, they have an A+ rating with the Denver/Boulder BBB. Besides boat cleaning, their boat cleaning services include interior and exterior detailing. The company's services include car washing for auto dealers, fleet truck washing, pressure washing commercial buildings, parking garages, restaurants, and graffiti removal. They specialize in emergency grease and oil spill cleanups and EPA water recovery.