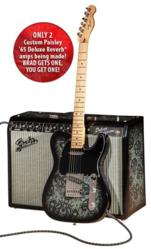 "This gift set is completely unique… a very coveted package for Brad Paisley fans or guitar players in general." –Brian Page, Fender
Oakland, NJ (PRWEB) November 09, 2012
American Musical Supply and Fender® are going to give one contest winner an autographed Fender® FSR Black Paisley Telecaster® Electric Guitar and matching Fender ® '65 Deluxe Reverb® Amplifier. Only two Custom Paisley Amplifiers are being made—one for the contest winner and one for Brad Paisley. In addition, the winner will also get Paisley's autobiography "Diary of a Player", and the full Sony® CD catalog of his albums. Fender's estimated retail value of the total package is $2,195.
"Brad [Paisley] is a long-time player and friend of Fender guitars and amplifiers, and although he is not officially endorsed by us - we have always looked for ways to team up with him on various promotions. The Limited Edition Black Paisley Fender Stratocaster and Fender Telecaster models were released in early summer of this year and I immediately knew it would be a good fit for Brad," says Brian Page, National Accounts Marketing Manager for Fender. Page goes on to say, "I also wanted to partner with a high profile Fender dealer and do something very special featuring the Limited Edition Black Paisley Fender Telecaster… I contacted Fender Amp marketing to see if we could get a classic Fender amp built with the same Black Paisley finish. We chose the '65 Deluxe Reverb, and off we went. This gift set is completely unique—although we made 1000 units of the Black Paisley Fender Telecaster globally, only two of the Fender amps were created – one for the AMS contest winner, and one for Brad Paisley. Additionally, throwing in Brad's book and CD album catalog from Sony Records made the gift set a very coveted package for Brad Paisley fans or guitar players in general."
Musicians wanting to enter the contest for a chance to win these exclusive prizes may only do so on the American Musical Supply website through November 30, 2012 by supplying their name, address and email address. The personal information of every entrant is secure, and will not be released without permission. Full contest details including winner notification and announcement can be found on the contest signup page on the AMS website.
AMS thinks everyone should have a chance to win this high-quality guitar and exclusive custom amplifier set. The Black Paisley Telecaster includes a maple fingerboard, two single coil pickups and chrome hardware. The '65 Deluxe Reverb® Amplifier with matching paisley finish is a 22-watt amp made for rock, country or blues that is the same style used in legendary recordings including Memphis and Abbey Road. The contest ends on November 30th so musicians are encouraged to register before it's too late. To sign up for this contest or receive more information please visit the American Musical Supply Fender Guitar Contest page.
Located in Oakland, New Jersey, American Musical Supply is a leading online merchant of professional and affordable musical equipment and supplies including guitars, amplifiers, live sound, DJ gear and more. AMS offers award-winning customer service and the American Musical Supply website has also been ranked in Internet Retailer's top 500 e-retailing businesses.