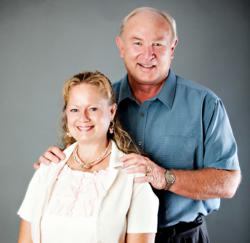 Ray Landers, communicates a profound message on biblical finance.
Los Angeles, California (PRWEB) November 09, 2012
Ray Landers, a preacher, missionary, and businessman from Auburn, Illinois, has spent the last 25 years helping others come to an understanding of their work, wealth, and relationships. Landers teaches using a combination of personal anecdotes and Bible truths, and has served as a professor of Counseling and Finance at the World Harvest Bible College.
Before devoting himself to ministry, Ray Landers operated successful businesses in the agriculture and real estate industries. A millionaire by 25, he also spent time spreading the Gospel in Israel and the Middle East. While in Israel, he studied under Jewish theologians in order to gain a better understanding of God's pathway to financial blessings. Today, he instructs international audiences on the distinction between wealth and Mammon, and helps families achieve freedom from financial stress and worry.
Ray Landers also has extensive experience in counseling. He specializes in identifying the root causes of conflict in families. He realizes that problems like compulsive behavior, low self-esteem and financial irresponsibility often occur in generation after generation, and he works to reduce the sources of intergenerational problems. He also emphasizes the importance of the Father's Blessing. He points out that, in the Bible, all successful endeavors start with a father's blessing. Even Jesus himself needed God's blessing before he could begin his public ministry. Landers provides concrete advice on how others can activate the Father's Blessing in their own lives.
With his decades of business and ministry experience, Ray Landers has a great deal of wisdom to share with young people. He teaches young men and women how to serve God through their careers in business. He has taken advantage of new media, creating several YouTube videos to explain his teachings. Ray Landers and his wife Billie have been married for over 40 years and still live on the farm where they raised their four children.
web: raylanders.com