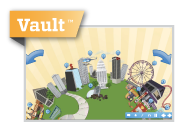 Tysons Corner, VA (PRWEB) November 01, 2012
Virginia Heritage Bank - http://www.vhbank.com has partnered with Sinclair Elementary, Signal Hill Elementary and Manassas Park Elementary to provide a new financial literacy platform, Vault™, from Everfi - http://www.everfi.com to their curriculum.
Along with the three Elementary Schools, My Money, My Future, is another course from Everfi in which teachers from Park View High School will be implementing in a variety of Career and Technical Education classes this year. "Vault ™ is an interactive, new media learning platform that covers savings, budgeting, responsibility and decision-making, credit and debt, careers, income, charity and more" (Everfi). Principals whom we have spoken to thus far are excited to start implementing these programs in late November. VHB has made this commitment in our community because of our strong belief that if we can educate the students of today, then they will become the financially responsible citizens of tomorrow.
Virginia Heritage Bank, now headquartered in Tysons Corner, with total assets of $740 million serves Northern Virginia and surrounding communities, with branches in Fairfax, Gainesville, Chantilly, Tysons Corner and Dulles Town Center. VHB is a full service bank providing an array of retail and commercial financial services.
David P. Summers
703-277-2200
http://www.vhbank.com
http://www.vhbmortgage.com
OTCBB:VGBK
Member FDIC