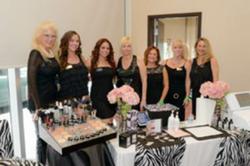 Unique part of this Facebook sweepstakes is that the charity of your choice can win a $100 spa gift card.
Delray Beach, FL (PRWEB) November 08, 2012
For years, charities in the South Florida area are quick to call the spa for a raffle gift cards or spa service donations. As South Florida heads into the 2012-2013 Charity season, the spa employees brainstormed for a promotion that would give back to clients and charities. The Charity Spa Giveaway is the answer for the Palm Beach charity season.
The 2012-2013 Palm Beach charity season is now in full swing with the October 4th Indulgence event at the new Hyatt in Delray Beach and the upcoming sold out Women of Grace luncheon to benefit the Bethesda Hospital on November 14th. For the Women of Grace luncheon, the spa has created $250 Gifts for the Tiffany sponsored table, and special favors for the Women of Grace VIP guests.
"Bella Reina Spa, located in Delray Beach, FL, donates over $20,000 in spa services to South Florida charities annually," stated Nancy Reagan, owner of Bella Reina Spa. Spa services, like facials, massages or a non-surgical facelifts, are great donations for silent auctions and raffles. With the new Facebook contest, the spa allows you to win a Relax Spa Package for you and a friend with famous spa goodies, including the Nutty Lotion and sugar scrub. In addition, Bella Reina Spa will donate $100 Spa Gift Card to the charity of your choice.
Facebook fans of Bella Reina Spa who have already entered the contest will be able to see online the winner of the contest. Fans are invited to enter the contest before November 21st and be sure to list your favorite charity. The winner of the Spa Charity Giveaway will be announced on the Bella Reina Spa Facebook page on Tuesday, November 27th. For more information on the Charity Spa Getaway, call the spa at 561.404.7670.