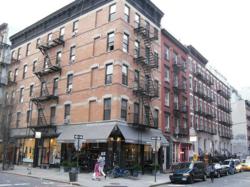 (PRWEB) November 13, 2012
SoHo is Manhattan's most expensive neighborhood based on the cost of lodging there. That's the finding of a new survey compiled by NewYorkHotels.org. The survey specifically compared the various neighborhoods in New York City based on their hotel rates during the month of October 2012.
To stay in SoHo, which is bounded roughly by Houston Street on the northern side, Lafayette Street on the east and Canal Street on the south, Big Apple visitors had to pay $283 on average for the cheapest available 3-star hotel. Coming in a close second was the neighborhood of Chelsea at $279 per night. Rounding out the top three was the Financial District at an average overnight rate of $267.
In contrast, the two least expensive districts, Murray Hill and Hell's Kitchen, cost visitors an average of $214 and $212 respectively to stay in the cheapest available 3-star hotel.
Those travelers who are content with lodging in a 2-star hotel will find the most affordable rates in the Upper West Side. There, an overnight stay will cost them an average of $179 per night according to the survey. To score a much cheaper room, they'll have to be willing to venture outside of Manhattan. A 2-star hotel in the vicinity of JFK Airport, for instance, averaged only $101 nightly.
Following are Manhattan's ten most expensive districts ranked according to their average rate for the cheapest available double hotel room. October 2012 served as the time period for comparison. Only hotels scoring a 3-star rating or higher were considered in this ranking.
1. SoHo $283
2. Chelsea $279
3. Financial District $267
4. Garment District $264
5. Times Square $254
6. Upper East Side $253
7. Upper West Side $246
8. Rose Hill $242
9. Lower East Side $224
10. Midtown East $222
Visit the full results of this survey at http://www.newyorkhotels.org/press/october-2012.html
Press Contact: Danielle Carter, press (at) newyorkhotels (dot) org