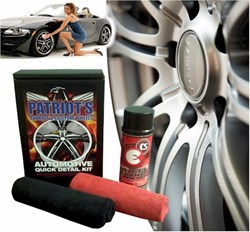 (PRWEB) November 05, 2012
Custom Rims are an investment that needs to be protected. Regular rim care and maintenance is key. The following wheel care and cleaning tips from the professionals at RimFinancing.com will help car owners protect the finish and gleam of their investment and keep them rolling beautifully for the longest time:
General Cleaning Tips

Nothing cleans a chrome rim like soap and water. Grabbing the wrong cleaner at your local auto parts store can actually cause more harm than good because the product designed to clean a painted wheel can destroy a chrome plated finish and vice versa.
Wheels should be washed thoroughly at least once a week. Once monthly, rimfinancing.com recommends pulling the rims off the car to wash the inner barrel, behind the spokes, etc., where dirt and brake dust love to hide. Remove the insert pieces and clean all the dirt and grime that collects behind them,.
Avoid using automatic car washes. The cleaning agents and brushes used to clean tires can damage the chrome plated finish. Also, the rails used to guide the vehicle through the car wash can damage the edge or lip of the wheel.
Never clean custom rims when they are still hot from driving. Do not attempt to cool hot wheels with water, as this may cause damage to the finish and can warp brake rotors and/or drums.
Chrome polishes should only be used on lightly damaged surfaces (dinged or beginning pitting). The abrasive properties of chrome polishes can cause damage to brand new chrome surfaces and should only be used when the surface is beginning to wear.
After cleaning, use some type of high-quality protectant like a good car wax.
As Winter approaches, some custom rim owners remove their rims from their vehicles and switch back to their stock rims. Others prefer to drive on their custom wheels year-round. Either way, the following tips are for the colder months of the year:
Winter Weather Cleaning Tips

Many areas of the country use road salts and chemicals during the winter months that can cause adverse effects on custom rims. Cleaning is recommended after every snow to remove the harmful chemicals from the wheels. Failure to do so may greatly reduce the life of the rims.
If removing custom rims for winter storage, they're not ready to store until they've been cleaned and dried thoroughly. Otherwise, the grime and brake dust have all winter to wreak havoc on your rim finish. After cleaning and drying, the rims should be stored in a dry location.
Regular cleaning and maintenance is the key to the longest life for custom rims. High quality cleaning supplies are also a must. The professionals at rimfinancing.com recommend ECS Wheel cleaner and polish, which easily dissolves brake dust and tar, making the cleaning experience virtually painless. Check out ECS Wheels cleaner and polish at RimFinancing.com