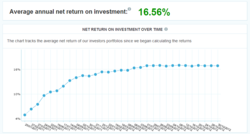 We have worked for nearly two years to establish a legal and operational framework that allows anyone across the world to invest on isePankur
Tallinn, Estonia (PRWEB UK) 1 November 2012
'Accessible to all'
Investors already active on other peer-to-peer lending websites or financial institutions issuing loans can now diversify their portfolios by investing in unsecured loans originating in Estonia. Investing in peer-to-peer lending loans in Estonia has multiple benefits; Lack of competition in the banking market has increased the average APR of unsecured consumer loans issued by local commercial banks to 37% p.a. This allows isePankur to provide borrower's access to considerably lower interest rates and investors the opportunity to earn market-beating returns. With Estonia being part of the Eurozone and SEPA (Single European Payments Area) funds being cheaply transferred to and from isePankur in two banking days, this makes this product accessible to anyone.
Pärtel Tomberg CEO of isePankur said:
"We have worked for nearly two years to establish a legal and operational framework that allows anyone across the world to invest on isePankur. This international diversification is unique to us compared to other peer-to-peer lending services as it allows investors to benefit from the different interest rates across the Eurozone. Additionally this will be the first time that private investors can invest directly in Estonia without committing large amounts of money".
The average annual net return on investment over the last two years has been 18.07% after bad debts. The low minimum investment amount of 5 euros allows wide risk diversification. A thorough background check is conducted on each loan applicant (income & employment verification, credit check, cash-flow analysis) resulting in a low bad debts in relation to the gross interest. The debt collection process is very quick and highly effective as isePankur takes each loan which has been overdue for more than 60 days to court on its own expense. The entire debt collection process can be monitored by investors through a tracking system.
All loan and investment documents are available in both English and Estonian and all loans are issued in euro.
Notes to editors
isePankur
isePankur (meaning literally iBanker in Estonian), established in 2008, is a pioneer of social banking in Estonia and the oldest operational peer-to-peer lending platform in Scandinavia allowing individuals and businesses to borrow and lend between each other. Lenders at isePankur enjoy annualised returns of over 18 per cent since the company introduced strict risk management policies in 2010. The rapidly growing company has been acknowledged as the "Best Estonian E-service of 2011" as well as a quarter-finalist at the World Summit Awards of 2011. With a 56 per cent profit margin in 2011, the company is one of the few profitable social banking start-ups in the world.