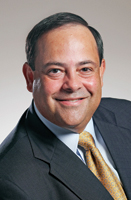 It is my goal to ensure Hispanics are a strong and vibrant component of the economic engine to bring Ohio's economy back on track.
Columbus, OH (PRWEB) November 05, 2012
Center for Hispanic Leadership (CHL) has launched its Ohio Chapter in its efforts to accelerate the advancement of U.S Latino professionals with the appointment of Jose "Rafi" Rodriguez as its local market President. According to CHL Founder, Glenn Llopis, "Mr. Rodriguez is a strong leader whose character and loyalty to his community has influenced Hispanic advancement in both the private and public sectors over the past 16 years. We are delighted that Mr. Rodriguez will serve as our Ohio Chapter President. His impact and influence will be noticed immediately."
CHL's Ohio Chapter and others across the country will focus on providing culturally relevant educational online tools, and onsite discussion roundtables to help Latino professionals lead in the workplace and advance in their careers. As such, CHL's Chapter President initiatives will be centered-around fostering strategic alliances with local market corporations to help their Hispanic talent bridge culture to enable higher levels of performance; thus cultivating innovation and initiative. CHL will also extend its culturally relevant educational outreach by developing local community engagement programs with colleges and universities to better prepare the next generation of Hispanic leaders that enter the workplace.
"I am thrilled to be part of Center of Hispanic Leadership. As the President of the Ohio Chapter, I am committed to bring Hispanic leadership talent in Ohio to new heights, says Mr. Rodriguez. It is my goal to ensure Hispanics are a strong and vibrant component of the economic engine to bring Ohio's economy back on track."
CHL's recent launch of Hispanic Training Center, the first and only interactive virtual training center for and about Hispanics will serve as the vehicle to help enable culturally-relevant training with its local market partners. Unlike other membership programs where you pay to become part of a network, CHL Chapter membership is free when you sign-up to complete Level 1 Certification at CHL's Hispanic Training Center. CHL rewards you for making a commitment to your professional development.
According to CHL Director of Client Relations, Annette Prieto-Llopis, "Ohio is a growing Latino community and it is a tremendous opportunity for corporations to engage more strategically with its employees by supporting culturally-relevant leadership programs. Mr. Rodriguez's proven Hispanic leadership track record in Ohio and community outreach is certain to play a powerful role as President of our Ohio Chapter."
For more information, regarding CHL Ohio Chapter Membership please contact Rafi Rodriguez at rafi(at)centerforhispanicleadership(dot)com. To learn more about being a CHL Chapter leader or member in your local market, please contact Annette Prieto-Llopis at aprieto(at)centerforhispanicleadership(dot)com.
About Center for Hispanic Leadership
CHL is the only Hispanic talent and business development institute of its kind. CHL is designed to create awareness of Hispanic leadership in today's fiercely competitive global marketplace. CHL helps Hispanics leverage their heritage to discover their full potential in their careers; as authentic leaders and small business owners.