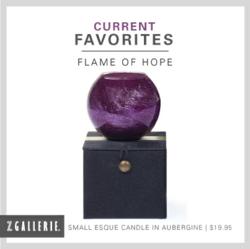 GARDENA, CA (PRWEB) November 01, 2012
Z Gallerie, a family-owned retailer, is kicking off the start of National Pancreatic Cancer Awareness Month by hosting its annual Shirley Key Shopping Weekend November 2nd – 4th.
During the Shirley Key Shopping Weekend 10 percent of sales will benefit the Pancreatic Cancer Action Network in Memory of Shirley Zeiden. Shirley the family matriarch and Z Gallerie's Goodwill Ambassador who proudly watched her three children start and build the company from a small poster shop in her garage to become a nationwide retailer of home furnishings, art and accessories. She succumbed to her battle with pancreatic cancer in June 2002.
To commemorate the tenth anniversary of her passing Z Gallerie is also donating $5 from the sale of every aubergine Esque candle during the shopping event. Purple is the official color representing pancreatic cancer awareness and reminds us to keep the flame of hope alive. Z Gallerie cardholders also will receive 20 percent off their purchases, excluding furniture books and sale items.
"When we started Z Gallerie, our mom was our biggest fan and most loyal customer, she just loved coming to our stores," said Mike Zeiden. "Of course, we didn't want to charge her for her purchases so we asked the staff to ring her items under "the Shirley key" and the name stuck."
Later it became an endearing testament to Shirley, who thought there was an actual key on the cash register and shopping weekends are dedicated to her memory and to the many other loved ones who have died from the deadly disease. Z Gallerie has been and continues to be a steadfast supporter of the Pancreatic Cancer Action Network.
This year, nearly 44,000 American's will be diagnosed with pancreatic cancer and more than 37,000 will die from the disease. Pancreatic cancer is on track to move from the fourth leading cause of cancer to the second cause of cancer death in the United States as early as 2015.
About Z Gallerie
Founded by Joe, Carole (Malfatti) and Mike Zeiden in 1979, Z Gallerie began as a small poster shop in Sherman Oaks, CA. Together the siblings operated the store during the day and framed posters at night in their parent's garage while dreaming of stores that carried more than just poster art. Their vision was to put forth a collection of fashion forward and exclusive home furnishings, art and accessories at an affordable price. Today, more than 33 years later Z Gallerie stores are an ever-changing combination of stylish, traditional and contemporary designs. With 56 locations across the United States and an online presence, Z Gallerie, still lead by Joe, Carole and Mike, continues to inspire both professional and amateur interior designers alike. The company is headquartered in Los Angeles with additional buying offices in Berkeley.
###