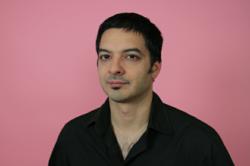 It's a fact of life... The key to attracting women is for men to make the most of their alpha male traits and demonstrate leadership and protector abilities.
San Mateo, CA (PRWEB) November 08, 2012
The fear and uneasiness during the onslaught of Hurricane Sandy is a perfect and appropriate time for men to demonstrate alpha male behavior and come forward to take leading roles in protecting others around them, says Dating Expert Carlos Xuma in his new report on how alpha male behavior helps in attracting women.
"Natural disasters, such as Hurricane Sandy, are a time for men to step up to the plate and exhibit alpha male behavior that demonstrates they are protectors and leaders," Xuma says. "Preparing for and dealing with the aftermath of a Frankenstorm like Sandy is a time for men to be leaders in their relationships, in their groups of friends, and in their community."
Note that this is not to say that women need protection from men. "It's not a gender thing because just as many women are out there taking charge - it is rather a chance for a guy to show he's a leader and take-charge kind of guy," Xuma says. "Demonstrating this behavior, even if a guy is stacking sandbags right next to a woman keeping pace, is the key to attracting women."
The idea is that women don't like wimps, Xuma explains. Women like men who are leaders and who can take charge and comfort them, if necessary, during something catastrophic like a natural disaster hitting near their home or the home of their loved ones.
"It's a fact of life," he says. "The key to attracting women is for men to make the most of their alpha male traits and demonstrate leadership and protector abilities. It doesn't matter if the women around him are showing those exact traits - he still needs to exhibit them to be considered attractive."
The guy who is out there helping others during a natural disaster, such as Sandy, even if only checking on his elderly neighbors in his apartment building, is going to be infinitely more attractive than his slouchy roommate who is lying around in his pajama pants playing video games all day because he has the day off work, says Xuma.
"Men who are learning the skills necessary in attracting women can look at a natural disaster not only as an opportunity to exhibit alpha male skills and traits, but also as an opportunity to grow and better themselves as a person, which ultimately is always attractive to women," Xuma says.
Carlos Xuma has been a dating expert and attraction adviser for more than 10 years and has appeared on ABC and CBS television, as well as Playboy radio. He has been recognized for his work sharing dating advice for guys; tips on pick up artist techniques, alpha male behavior, and how to talk to girls. Xuma has spent yearsteaching hundreds of men, through his website at http://www.attractwomen.com, the basics of attracting women. He is the author of The Bad Boy Formula, Secrets of the Alpha Male, the Girlfriend Training Program, and numerous other books and articles.
For more information, visit Carlos Xuma's website at http://www.carlosxuma.com.