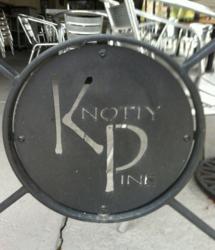 We're going through the equivalent of Extreme Restaurant Makeover. Expect a new menu, new pricing and aggressive food and drink specials.
Columbus, Ohio (PRWEB) November 05, 2012
Gryphon Asset Management and its principals Richard and Melissa Kruse have been appointed as receiver and ordered to take over management of the historic Knotty Pine Bar & Grill in the City of Grandview Heights, Ohio.
The Knotty Pine was originally opened in 1935 by Baise and Maria Ciconne in a former Kroger corner store and is considered one of the oldest restaurants in Ohio. Jim Savage bought the location in early 2004 and undertook a complete renovation. Gryphon staff came on site October 24, 2012.
"This is a fabulous location with a long history in the community and has all the signs of completing a successful turnaround," said Richard Kruse of Gryphon. "We have brought in a new GM to assist Jim with the operation, are in the process of tweaking the menu and are streamlining back of house operations. Assessments are being made hourly and enhancements made daily."
Restaurant consultant, Jason Norton, has been named interim General Manager. Jason has more than a decade in the restaurant and food service distribution industries. He began his career with The SYGMA Network and has owned a number of local bars and restaurants. Most recently he was the corporate franchisor for PaPa Joes Pizza in Columbus Ohio where he grew the chain from three stores to 8 before selling that business earlier this year.
"We're going through the equivalent of Extreme Restaurant Makeover. Expect a new menu, new pricing, aggressive food and drink specials and increased community outreach," stated Melissa Kruse of Gryphon.
About Gryphon USA, Ltd.
Gryphon USA, Ltd. is a multi-faceted asset management and liquidation firm focusing on the operations and dissolution of single assets through and including entire companies. Gryphon maintains a receivership and asset management group commercial auction practice art, antique and pottery auction group and real property management group. Real estate transactions are managed through Borror Properties Real Estate.
Melissa M. Kruse oversees the day to day operations of the parent company, Gryphon USA, Ltd. while Gryphon Asset Management operations are managed by Richard F. Kruse. Auction operations are directed by Peter Gehres and Borror Properties is managed by Lori Steiner.