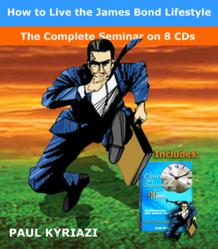 According to Paul Kyriazi, "Every man, no matter his age or income as that's not what the lifestyle is about, deserves to get his piece of the James Bond Lifestyle. Why should James Bond have all the action?"
(PRWEB) November 05, 2012
What does James Bond do during the holidays? According to Paul Kyriazi, author of How To Live The James Bond Lifestyle, judging from his past actions of helping people in distress and rescuing the world when it's on the brink of destruction, the answer is easy if you think about it. When he leaves the casino at the beginning of "Dr. No" he casually tips the doorman. Yes, he's free with his money. He's also free with his compliments as he tips the craps dealers in "Diamond's Are Forever," saying, "Thank you gentlemen, for such a sterling service." As he leaves the craps table, he then gives part of his winnings to Plenty O'Toole, actress Lana Wood, for rolling the dice for him, and continues walking without expecting anything in return.
What does James Bond do during the holidays? He gives. Research shows that simple acts of generosity boost our immune systems and even relieve pain.
According to Paul Kyriazi, "Every man, no matter his age or income as that's not what the lifestyle is about, deserves to get his piece of the James Bond Lifestyle. Why should James Bond have all the action?"
With the new James Bond movie "Skyfall" opening, it won't be just the gadgets or precarious situations that will be enthralling, it is Bond's ability to control fear and take care of business when the heat is on, and still have time for a late-night date with one of his beautiful ladies.
Bond is not only a man of action, but unlike other heroes of fiction, he is also a man of leisure and prosperity. When mere mortals are squeezed they often fold, but when Bond is squeezed, he focuses. He is the ultimate definition of "cool under pressure", or just "cool."
Paul Kyriazi is the writer/director of six feature films in addition to full-cast audio-novels. He has been interested in the Bond lifestyle ever since he saw Dr. No when he was in high school but it was 15 years ago, after an intensive study of self-help disciplines and books, that he was able to distill the essence of Bond cool. His seminar course is now downloadable at Amazon Kindle in addition to being available in 8-CD discs at http://www.BondLife.com
More information can be found online at YouTube: http://tinyurl.com/95v87op