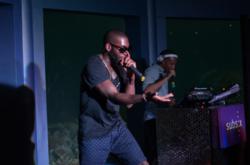 Maldives (PRWEB) November 01, 2012
The event was broadcasted live on Ustream with people tuning in from all over the world. During his performance, Tinie gave a shout out to everyone watching, Per AQUUM and the team at NIYAMA, for the incredible experience he is having on the island. The crowd reacted with an overwhelming response agreeing in unison. Performing some of his biggest hits including, Pass Out, Written in the Stars, Frisky, Till I'M Gone, Wonderman and also his latest collaboration with Britain's newcomer, Rita Ora, R.I.P. Guests were not only singing along but cheering him on, creating an electric charged atmosphere. Tinie commented this was 'the best party ever' during his 45 minute live set when the crowed joined in. He dedicated his Swedish House Mafia hit, 'From Miami to Ibiza' to 'From NIYAMA to Ibiza' causing the crowd to go wild, including General Manager, Brian Gardiner.
As Tinie continues his stay at NIYAMA, DJ Poet arrives for the second launch event this November 2nd. DJ Poet is a Per AQUUM Music Ambassador, two-time GRAMMY® nominated Super Producer, Songwriter, Remixer and Founder of Listen Deep. He is a US Billboard #8 Dance/ Electronic artist and was also Official DJ to the Black Eyed Peas The E.N.D. World Tour.

Note to Editors:
The DJ phenomenon:
DJ Cassidy: Obama's Beats Master
http://abcnews.go.com/Nightline/video/dj-cassidy-obamas-beats-master-17179638
House Music Has Become a Global Phenomenon
http://www.forbes.com/sites/danschawbel/2012/03/09/house-music-has-become-a-global-phenomenon/
Diplo: Building A Bridge From The Underground To The Mainstream
http://www.npr.org/blogs/therecord/2012/06/12/154862431/diplo-building-a-bridge-from-the-underground-to-the-mainstream
Per AQUUM Retreats • Resorts • Residences is a specialist management and development company that offers a different kind of company ethos: one that is passionate, visionary, imaginative and naturally modern. The architecture and design of each project is inspired by the individual beauty of the property's host culture, while development is based on principles of realism, sustainability and responsibility. Renowned for creating bold, imaginative spaces and signature attention to detail the Per AQUUM name has built significant brand value within the top echelons of the travel industry. The current portfolio includes Huvafen Fushi in the Maldives, Desert Palm in Dubai, NIYAMA Maldives, Nurai Island (opening 2013). Per AQUUM is in a further strategic expansion phase, with new properties under development or negotiation in Europe, South East Asia, UAE and the South Pacific
Float Into The World Of…
Per AQUUM Retreats • Resorts • Residences
A Universal Enterprise
For reservations, please email reservations(at)niyama(dot)com or call +960 676 2828.
Click here to 'like' nature's playground on Facebook or follow @niyamamaldives on Twitter.
For further press information, please contact:
SHEILA DONNELLY & ASSOCIATES
Alison Sager
212-365-4687
Alison(at)sheiladonnelly(dot)com
Website: http://www.peraquum.com