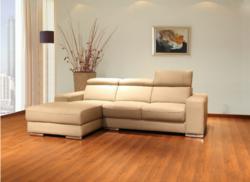 The Interior Gallery aims to maintain a culture of luxury at affordable prices while promising to bring beauty, comfort and elegance to their customers' daily experience at home or in the office with their range of modern leather sectional sofa collection
Allen, Texas (PRWEB) November 03, 2012
The Interior Gallery has just launched their new modern leather sectional sofa collection. The new sectional sofa sets are made from high quality Brazilian leather to ensure maximum comfort and style for home owners. The new leather sofa collection consists of sectional sofa sets as well as individual Swivel and Recliner chairs.
The leather sofa sets come in a few different color and leather quality to cater to the taste of modern home owners who are looking for luxury and elegance at an affordable price range. Color options offered on selected models come in cream, dark brown or black. Those looking for a complete living room sofa set have an option of choosing the 2 piece or 3 piece sectional sofa sets depending on the size of the living room.
The frame work for these beautiful sofa sets are made from high quality solid pine wood so that customers could rest assure of the sturdiness of the wood work. Selected models come with fully adjustable electrical mechanism so that home owners could recline or adjust the seating position according to their comfort levels with only a touch of a button. Arm rests and back cushions are also adjustable and will bring an element of rest and relaxation in any room.
Most of the leather sofa sets come with high polished chrome plating detailing and legs that give it an ultra modern look. Not only will these sectional sofa sets look good in any living room, they are also practical to use and easy to clean.
The Interior Gallery aims to maintain a culture of luxury at affordable prices while promising to bring beauty, comfort and elegance to their customers' daily experience at home or in the office with their range of modern leather sectional sofa collection. Currently, the entire modern leather sofa collection are on sale for the holiday shopping season – an excellent opportunity for consumers to save money while getting luxurious products at an affordable price.
The company is a direct factory business where majority of their products are custom designed for them and shipped to their distribution center in Carrollton, Texas from their manufacturers. These products are then shipped directly to their customers. Those wishing to have a look at the actual products offered by The Interior Gallery could visit the company's $3 million showroom which is located in Allen, Texas.
For more information and to view the company's products online, please visit http://www.TheInteriorGallery.com. Customer service can be reached at toll free 866-205-6867.
The website for The Interior Gallery is powered by InstanteStore, an ecommerce internet solution for business.