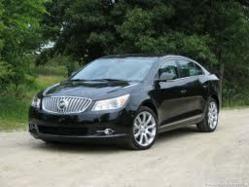 The Lacrosse is a flexible sedan that can be packaged and outfitted to suit a wide variety of needs.
Edmonton, AB (PRWEB) November 01, 2012
General Motors is one of the most improved auto manufacturers in recent times and they owe their success to one vital factor: they are willing to listen to their clientele and take suggestions from the people that buy their cars. This simple but effective measure has enabled GM to be much more competitive in a wide range of markets and has bolstered the product portfolio of each individual brand within the monolith's purview.
One brand that has undergone a significant transformation in recent years is the Buick. It wasn't long ago that the Buick was perceived as a luxury brand that targeted older men and women, retirees who wanted to enjoy their time on the road with as many added luxuries and comforts as possible. Although Buick still provides an impeccable product for this demographic, they have significantly widened their horizons and many of their vehicles are an excellent selection for those with a young family and anyone looking to get the most out of their crossover.
2012 was a major year for Buick in that they heavily updated many of their vehicles and have found heavier distribution among many Edmonton dealerships. For one thing, the brand decided to focus on safety and successfully modified the safety features on most of their lineup including the Lacrosse. Now Buick's vehicles are among the safest on the road, and have earned the highest safety ratings possible from a large number of independent agencies.
In honour of this terrific year, Edmonton Motors is holding a year-end sale and offering huge discounts and savings on select models within the Buick lineup. One of the models chosen was the Buick Lacrosse, Buick's mid-size luxury sedan and the one of the flagship products for Buick as the brand segues into affordable-luxury market.
With over $7500 in total savings to be had, this is an incredible offer for a vehicle that received a lot of positive notices from professional and amateur vehicle reviewers alike. The Lacrosse is a flexible sedan that can be packaged and outfitted to suit a wide variety of needs. An emphasis is placed both on safety and on a driver's overall comfort. This is a solidly built vehicle that also has excellent fuel efficiency. Those who prioritize tech features and other innovations will find editions of the Lacrosse that have no upper-limit when it comes to intricate add-ons.
Of course there are more models available for similar savings at this Edmonton car dealership. Anyone interested in acquiring a vehicle at an affordable rate and receiving a full complement of dealer benefits, such as maintenance and service packages to go along with the vehicle will be happy with what they find at this reputable dealership.