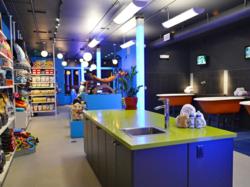 Not Your Average Neighborhood Dog Wash - Not Your Average Online Dog Store.
San Francisco, CA (PRWEB) November 01, 2012
K9 Scrub Club, called the best online pet store and best self-serve dog wash in San Francisco by many of their customers, will team up with Muttville Senior Dog Rescue on Saturday, November 3, 2012.
Muttville is a San Francisco-based rescue dedicated to saving senior dogs that are often considered to be unadoptable and euthanized due to their age. They maintain a grass-roots effort to finding homes for these exceptional pups and placing them with loving families that will care for them.
Muttville's rescues are a large mix of adults, seniors and dogs with disabilities and many of them find their way to the shelters when they have been separated from their human companions or their owners simply cannot care for them any longer. These dogs have wonderful personalities and are a wonderful addition to most homes.
K9 Scrub Club is a proud supporter of local rescues and organizations providing their time and hard work to helping dogs find homes with loving families. Stop by their Noe Valley location on Saturday, November 3, 2012 from 11am to 1pm to show your support to Muttville, meet some of the adoptable dogs or to donate.
K9 Scrub Club will be donating a large dog bed (valued at over $150.00) for raffle the entire month of November with 100 percent of the ticket price going to Muttville. Each raffle ticket is $10.00 or three tickets for $20.00.
You can get more information on Muttville and other rescues at k9scrubclub.com or by going directly to Muttville's website at muttville.org.
K9 Scrub Club also hosts a number of events each month including free puppy socials, Tasty Tuesday treat specials and K9 Club Night - a fun shopping experience with refreshments, discounts and fun music for you and your dog.
K9 Scrub Club is located at 1734 Church Street, San Francisco CA 94131.