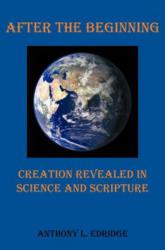 Creation is shown to offer a better explanation for the origin of life than unlikely chemical interactions,
FORT COLLINS, Colo (PRWEB) November 01, 2012
"Recognizing the importance of the creation debate, I wanted to provide answers to friends and relatives who had questions about creation," explains author Anthony L. Edridge, who compares a number of diverse views about Genesis with Biblical and scientific evidence. His research on creation became the basis for his new book, "After the Beginning: Creation Revealed in Science and Scripture" (published by WestBow Press).
"After the Beginning" explains how the creation story in Genesis is consistent with scientific research on the age of the Earth, based on Hebrew texts and disciplined methods of interpretation. It also describes how the creation story in Genesis reveals God's plan to create a loving, eternal and intimate relationship with people.
"Creation is shown to offer a better explanation for the origin of life than unlikely chemical interactions," Edridge explains. "By re-using exquisitely designed complex mechanisms in living cells, God created countless new species until He finished with His masterpiece, mankind. Conversely, evolution is unable to overcome the contradictory requirements for life to begin from random events. Moreover, living cells exhibit numerous processes designed to prevent mutation into significantly different species."
His new catastrophic flood model provides an explanation of how Mesopotamia was flooded to a depth of about 1000 feet at the end of the ice age, and he proposes a unique Biblical mechanism that caused the floodwater to subside.
About the Author
Born just outside London at the beginning of World War II, Anthony L. Edridge graduated from the University of Southampton in 1961 and earned his Ph.D. in physics from the University of Surrey. In 1974, he and his family emigrated to Colorado, later moving to Texas, where Edridge attended Hill Country Bible College, graduating in 1981. Returning to research and development, he designed and installed the first cooled millimeter-wave receiver on the radio telescope at the McDonald observatory in west Texas. For the next 20 years, he was employed in engineering management positions, including V.P. of engineering, before retiring in Fort Collins, Colo. He has served as an elder in three evangelical churches since 1975.
WestBow Press is a strategic self-publishing alliance of Thomas Nelson, Inc., the world's largest Christian publisher, and Author Solutions, Inc. (ASI) — the world leader in the popular self-publishing industry segment. Through this partnership, authors benefit from the rich publishing heritage of Thomas Nelson and the speed-to-market advantages of the ASI self-publishing model. Titles published through WestBow Press are evaluated for sales potential and considered for publication under the Thomas Nelson imprint. Thomas Nelson, Inc. continues to "inspire the world" with distribution of products in more than 100 countries worldwide. For more information, or to start publishing today, visit http://www.westbowpress.com or call (866)-928-1240. Follow us @westbowpress on Twitter for the latest news.