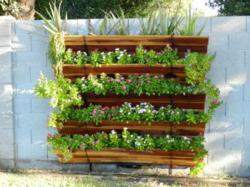 The system consists of ergonomic multi-tiered design.
Phoenix, AZ (PRWEB) November 20, 2012
Flower Street Urban Gardens offers a system designed for easy growing. The patent pending system consists of a ergonomic multi-tiered design that is highlighted by a uniquely efficient system of water flow.
These two aspects of the design add a level of functional ease that far exceeds that of other gardening systems currently on the market.
Those who have ever tried gardening and have failed to produce their desired results, this system can be a great aid. Flower Street Urban Gardens provides a vertical gardening system that can be assembled in less than 30 minutes and requires no tools, and has up to 30 sq. ft. of planting space.
This system offers a new solution to those who wish to grow their own vegetables, herbs, or flowers in a garden that is not only aesthetically pleasing but also practical and eco-friendly.
The ease of use and practicality aside, Flower Street Urban Gardens go along way in terms of shear looks featuring stunning redwood and rustic powder coated hanging brackets.
For those who want to add an assortment of decorative flowers to dress up a plain block wall, railing, fence or post this system is also a creative option for those with a keen aesthetic eye.
To make it even easier to get growing Flower Street Urban Gardens is currently offering $50:00 off
their 3 and 4 Tiered Units. Plus and additional $25.00 off if you purchase more than one. This offer is good through November 2012.