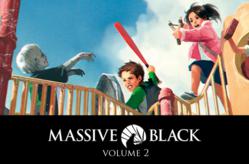 Every ounce of their art has that distinct Massive Black flavor of awesomeness, which translates beautifully in the pages of Ballistic Publishing's Massive Black volume 2 - a visual tour de force.
Adelaide, South Australia (PRWEB) November 02, 2012
Ballistic Publishing is proud to announce that Massive Black volume 2 is now available to pre-order from ballisticpublishing.com. Since 2003, Massive Black has been a company of ultra-talented artists, who have contributed original art, design and animation for some of the most successful consumer brands and franchises in games and film. They have also conjured up their own world-class Intellectual Properties: Zombie Playground, Mothhead, PROXY, and Transient.
Every ounce of their art has a distinct Massive Black flavor of awesomeness, which translates beautifully in the pages of Ballistic Publishing's Massive Black volume 2 - a visual tour de force that chronicles many of their artistic achievements from 2008-2012.
Massive Black volume 2 shows the evolution from concept to completion in everything from the biggest games, movies, TV shows, and properties known today. Game players and game artists alike will be enthralled at their work for such titles as the huge Suckerpunch's "InFamous 2"; Konami/Climax Studio's brilliant "Silent Hill: Shattered Memories": and the recent "Starhawk" from Incognito/Lightbox. There are hundreds of individual character, vehicle, weapon and creature designs to flick through and nurture your own ideas.
There is also much for movie fans and movie-makers, with Massive Black's work on the "Transformers" films, and their toy designs on G.I. Joe, which influenced the content of things in the film. For those interested in how to make big TV campaigns, check out their work with Coco pops, V-Energy Drink and "Dancing with the stars". There's all this, and much, much more to be found in the 208 pages of Massive Black volume 2.
For the serious lover of art, Massive Black 2 is also available in an exclusive collector's Limited Folio Edition. Limited to only 400 copies, it features a White Cromwell Bonded Leather and has Silver Foil for the cover and spine, with a larger than normal full colour tip-on. All of the text on the cover and spine are silver foil. It has a matching hand-crafted presentation case with a ribbon to easily remove or place the Folio Edition in its box. Rounding-off this Limited Folio Edition is an individually-numbered and personally-signed certificate by Massive Black.
EXCLUSIVE A3 POSTER & Massive Black vol 1 Slip cased Edition
Limited to those who buy both Massive Black 1 and 2 Folio Editions, is an incredibly rare poster, which features imagery from the upcoming game "Zombie Playground", and is signed by Massive Black artists. They will also receive a brand new copy of Massive Black vol 1 (slip cased edition). Another A3 poster will be given exclusively to the first 200 buyers of any Edition of Massive Black vol 2. It features stunningly complex artwork from "Transient" by the wildly talented Justin 'Coro' Kaufman, Art Director and Co Founder at Massive Black.
ALSO AVAILABLE: Massive Black volume 1
To complete the collection, we've delved into the best-selling Massive Black volume 1 to create Limited Folio, and Special Leather Editions. These gems for collectors will be in black leather to perfectly complement the white of volume 2.