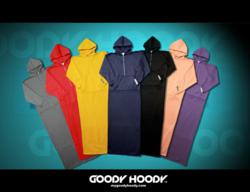 Students can wear it while lounging around their dorms or studying at the library. There really isn't a place on campus unsuitable for the Goody Hoody
Los Angeles, CA (PRWEB) November 07, 2012
With the cold weather quickly approaching, college students everywhere are scrambling to find the perfect thing that will keep them warm throughout the semester. Whatever it may be, this item of great comfort is often a necessity to college apartments and dorms. Some co-eds choose to curl up in their favorite quilts from home, while others opt for sweatshirts adorned with Greek letters. The Goody Hoody has emerged as an ingenious way for students to combine the best of both worlds: the extreme comfort of a hooded sweatshirt with the functionality of a blanket. Sounds pretty close to college-life perfection, no?
The Goody Hoody is available in different sizes and seven classic colors: black, charcoal grey, navy blue, pink, purple, red, and yellow. Its spacious pullover hood allows for complete head-to-toe comfort and warmth. Some unique features include a half-zip, drawstrings, a front hand-pouch pocket, and even a feet-pouch pocket. Made only of high quality sweatshirt material, the Goody Hoody is not prone to static, unlike other blankets and throws.
"I believe college students can really benefit from the Goody Hoody's innovation," says Goody Hoody founder Catherine Cruz. "Students can wear it while lounging around their dorms or studying at the library. There really isn't a place on campus unsuitable for the Goody Hoody," she states. In fact, students have sent in photos of themselves wearing their sweatshirt blanket in dining halls, outdoor sporting events, and tailgates. "I wouldn't recommend wearing it to the classroom, but I doubt professors will be able to resist the utter comfort of the Goody Hoody if they tried it," Cruz jokes.
The Goody Hoody is gaining national attention through online retailers and word of mouth. Fans of the product, from renowned hip hop stars to toddlers and their parents, can be seen posing in their sweatshirt blankets on Goody Hoody's social media websites. Others have written in to say that they have saved on their energy bills by wearing their Goody Hoody around the house during the colder winter months. Avid supporters of the brand have demanded that the company design other items of clothing. Lucky for them, their wishes have been granted: Goody Hoody's site also features tees, zip-ups, and tank tops (only available during warmer months).
Evannuel, Cruz's husband, came up with the idea of the Goody Hoody on a cold December evening in San Francisco, 2009. Sick with the flu, Evannuel was dozing off in front of the television when the idea came to him like a dream. "I thought it was a good idea for a hoody and there you go, the Goody Hoody was born," he explains. His family members gave his prototype rave reviews, allowing him the confidence to turn his idea into a national novelty.
Are you curious to find out what this Goody Hoody hype is all about? Join the other students across the nation who did—order the Goody Hoody in your size and favorite color today. As Evannuel says, "It's all goody in the hoody."
Watch "Goody Hoody" VIDEO below:
http://www.youtube.com/watch?v=RuczbHk0IKI
http://youtu.be/Tx_DN2FtyNk
For more information, please visit:
http://www.mygoodyhoody.com
FOLLOW the Goody Hoody Movement on:
Facebook: http://www.facebook.com/mygoodyhoody?fref=ts
Twitter: https://twitter.com/myGOODYHOODY
(#SweatshirtBlanket)!
Catherine and Evannuel Cruz, Founders of Goody Hoody, are available for interviews, please contact Monica Busby or Mariesha Richard at Quantum Leap Entertainment // Monica@qle-pr.com or Mariesha(at)qle-pr(dot)com or call 424-209-9QLE (753) http://www.qle-pr.com