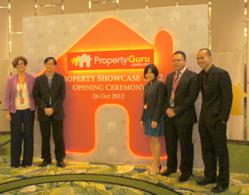 PropertyGuru attracted a significant amount of attention and people to its inaugural property showcase. It's a brand name that Malaysians trust
(PRWEB) November 02, 2012
"In Penang, RM14.2 million sales were achieved during the two days, with several developers hitting double digit numbers of units sold.
"In Kuala Lumpur, RM21 million worth of sales was recorded and a total of 1672 individuals visited the PropertyGuru Property Showcase 2012 within a period of three days," said Jason Thoe, Acting Country Manager of PropertyGuru Malaysia.
Held in a two-part series with the first event at the Eastern and Oriental Hotel, Penang (20th – 21st October) followed by at Gardens Hotel Ballroom, Kuala Lumpur (26th – 28th October), the online property portal's first Malaysian showcase has been well received.
The success is attributed to the nature of the Property Showcase which emphasizes on a select group of property developers which are able to give high return on investment (ROI). The PropertyGuru Property Showcase 2012 is strongly supported by property developers as well as other industry players / segments including banks.
Among the participants are realty firm SK Brothers, Hartamas, Kim Realty, Montpelier as well as UEM Land, NAZA TTDI, Country Heights, Tambun Indah, Haven, Plenitude Berhad, The Andaman Group, Seri Pajam, OCR and foreign developers, Country Garden (China), Salvo (Australia) and Redrow Homes Limited (UK).
Participating developers also echoed similar sentiments, highlighting how smaller, more visitor-oriented events may become the preferred choice in getting to know Malaysian buyers and building better rapport.
Amongst the attraction at the Property Showcase was the Ask Guru Lounge where experts/ 'Gurus' such as: Ho Chin Soon (renowned map maker), Chris Tan, (leading legal expert on property matters), Heidrun Dörner (interior designer) as well as representatives from CIMB Bank, Mastery Asia (investment specialist) provided complimentary expert advice on market trends, legal matters, interior design ideas and property investment tips.
"It's a lot more personalised and insightful, which we believe is important. As property prices appreciate and the market grows in complexity, buyers correspondingly need more information and market intelligence to make better decisions when purchasing property, whether for investment or for their own stay," added Thoe.
"Being one of the leading property portals in Malaysia, PropertyGuru attracted a significant amount of attention and people to its inaugural property showcase. It's a brand name that Malaysians trust. We expect them to continue pushing the envelope in offering new and innovative marketing ideas for developers," shared Bernard Yong, Senior Manager, Marketing of Naza TTDI.
"We found that Malaysians are quite aware of UK property opportunities and are looking to invest. The PropertyGuru Property Showcase 2012 was an excellent platform for Redrow to introduce its brand to the country and to promote our One Commercial Street project, which is one of London's prime developments," shared Libby Hynes, Sales & Marketing Manager of Redrow Homes Limited.
"Country Garden is one of China's top 10 developers. As we are new in Malaysia, we chose PropertyGuru to bring our products to the country. It's one of the fastest developing online property portals in Malaysia. Our participation will be able to generate pre-awareness for our projects in Kajang and Rawang – to be officially launched in next year," shared Ariel Chan, Regional Director at Country Garden.
Malaysian Property Outlook for 2013
On a separate note, several developers shared their views on the Malaysian property with sentiments ranging from positive to cautious.
"2013 is unlikely to be as strong as the 2011-2012 period. We foresee a continuing tightening of credit, which will impact the property market. The demand for good, affordable property will always be there, but people will be hampered in their efforts to secure financing for their purchases. The continuing headwinds faced globally will also weigh on the local sentiment," expressed Yong (Naza TTDI).
"The property market in Malaysia is market-oriented and continues to develop in a healthy way. There is effective government regulation and control. There is also steady population and economic growth. These factors will favour the development of the real estate market in 2013. As for the price of houses, it has been a steady growth over the years, and there will be room for further appreciation," shared Ariel Chan, Regional Director at Country Garden.
Doing Malaysia Proud – PropertyGuru.com Bags Three Medals at OPP Awards, London
Success of the PropertyGuru Property Showcase comes just after the online portal doing Malaysia proud by bagging Best Innovation – Gold, Best Media – Silver and Best Online Service – Bronze at the recent OPP Awards for Excellence in London.
PropertyGuru was bestowed with the three awards by a distinguished international panel of 50 influential industry leaders from around the world. The OPP Awards saw over 350 representatives from global property developers, real estate agencies and other industry organisations vying for honours in 28 award categories.
--------------------------------------------------------------------------------------------------------------------------------------------
About PropertyGuru.com
PropertyGuru.com was founded in 2006 as a self-funded company with a vision to make the property search process a breeze for buyers, sellers and investors. It provides consumers the platform to find properties for purchase, sale, rental or investment and a direct channel to contact agents.
Today, it has grown into Asia's leading online property portal group with a presence in 10 countries with offices in Singapore, Australia, Malaysia, Indonesia, Thailand, Vietnam and China. It has over 9 million buyers viewing more than 72 million property pages monthly with a growing database of 300,000 buyers and over 21,000 real estate agents.
Its Malaysian portal, http://www.PropertyGuru.com.my is the fastest growing property portal in the country. The Malaysian portal currently has over 1 million visitors viewing more than 5.5 million pages monthly, with over 120,000 listings and 3,500 agents signed up.
PropertyGuru.com.my is designed with the end-user in mind, featuring real-time access to multimedia-rich content, covering property-related products, services, news, advice, guides, tools and a rapidly growing online property database in Malaysia.