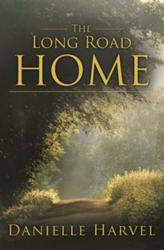 "I want them to know how to have a closer walk with God, to know that we are not useless to the Lord because we make mistakes and that we must learn to forgive ourselves with the same heart we forgive others because that is the kind of God we serve."
(PRWEB) November 02, 2012
In her new inspirational Christian novel "The Long Road Home" (published by WestBow Press), author Danielle Harvel tells the story of a girl who faces incredible adversity and makes many mistake but still finds hope and forgiveness in God.
When a girl named Nicole is put through a number of trials in her young life – her parents' untimely death, a secret miscarriage, a life-changing car crash and more – she begins to learn that God's forgiveness is easier to accept than forgiving herself. When she finally gets to a place where she is able to move past her sin, forgive herself and serve God on another level, she finds she is truly where she is meant to be… home.
An excerpt from "The Long Road Home":
"Her whole body ached as though it had been running a race that it was not conditioned for. It would only be a moment before her aunt would burst through the doors to make sure she was okay. She began taking deep breaths to calm herself and wiped her face furiously. She looked around the strange room that was to become her own and felt like a flower that had sprung up in a desert. She was wilting in a foreign land, dying in a place where she was not supposed to be, where she could not breathe."
Harvel hopes Nicole's inspirational story serves as a model which readers can follow. "I want readers to learn to be saved," she says, "I want them to know how to have a closer walk with God, to know that we are not useless to the Lord because we make mistakes and that we must learn to forgive ourselves with the same heart we forgive others because that is the kind of God we serve."
About the Author
Danielle Harvel has been an avid writer and reader her entire life. Since childhood, she had two career goals: to be an author and a scientist. She graduated from Eastern Kentucky University in 2004 with a B.S. in clinical laboratory science and is a registered medical laboratory scientist through the American Society for Clinical Pathology. Harvel has been a Christian since 1997 and a member of McDowell First Baptist Church since her 18th birthday of that same year. During that time, she has served as a Sunday school teacher, youth group leader, senior adult leader and a chaplain for her college dormitory. She and her husband, Allen, have two children, Kennedy and Braden. Harvel is an enthusiastic horse rider and competitor, and she lives in McDowell, Ky., overlooking her family's barn. They currently have two horses, two ponies and one English Bulldog named Lady.
WestBow Press is a strategic self-publishing alliance of Thomas Nelson, Inc., the world's largest Christian publisher, and Author Solutions, Inc. (ASI) — the world leader in the popular self-publishing industry segment. Through this partnership, authors benefit from the rich publishing heritage of Thomas Nelson and the speed-to-market advantages of the ASI self-publishing model. Titles published through WestBow Press are evaluated for sales potential and considered for publication under the Thomas Nelson imprint. Thomas Nelson, Inc. continues to "inspire the world" with distribution of products in more than 100 countries worldwide. For more information, or to start publishing today, visit http://www.westbowpress.com or call (866)-928-1240. Follow us @westbowpress on Twitter for the latest news.