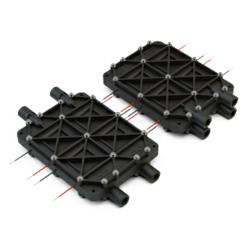 Outperforming thermoelectrics.
Venlo and Maasbree (The Netherlands) (PRWEB UK) 2 November 2012
Top-Cool Products B.V. the inventor of the TCT cooling technology and ACS B.V. a manufacturer of cooling equipment for the laser market, today have entered into an agreement that appoints ACS B.V. as a worldwide exclusive sales and marketing channel for all of the current and future Top-Cool products.
Except for the automotive market and special customer relationships, this agreement covers all of Top-Cool's current and future products and markets. ACS will offer competitively priced and outperforming cooling solutions and products to the market and Top-Cool will fulfill special requirements to develop products, systems and new cooling concepts.
"I am very excited to extent my relationship with my leading customer ACS into an exclusive partnership that will boost awareness of my technology to companies world-wide and shows them there is a technology available now to solve their toughest cooling issues " said Marc Zelissen, inventor of the TCT technology and founder/owner of Top-Cool. "Together with the help of ACS's outstanding marketing and sales staff, I will be able to bring my invention and products quicker to the market including top-class customer service and support, while my teams can focus on new enhanced developments".
"We firmly believe in the TCT technology and are very pleased that we can offer the market a one-face and a single counter for purchase" said Math Vola, managing director of ACS. "Everyone will benefit from the expertise we have gained while productizing Top-Cool's unique cooling technology into outperforming thermoelectric chillers for the lasermarket and this will accelerate rapid deployment in all kinds of other markets as well".
About Top-cool
Top-Cool was founded in 2002 to productize Marc's patented invention of utilizing thermoelectric elements in such a non-traditional and superior manner that heat is removed without any thermal barrier. Solid-state Top-Cool Technology ("TCT ™") is revolutionizing the way thermal energy is removed by Peltier elements from water while remaining durability and lifetime expectation. Top-Cool Technology embodies the world's most compact and powerful cooling performance and sets the standard of how cooling in high performance thermo electric applications will look like in the future.
"Top-Cool recently showed the latest product range on the European Automotive Airconditioning Convention at Frankfurt (Germany) where the ECO-ClimaTEC surprised the audience with this totally new system based on Top-Cool Technology" (http://www.top-cool.eu)
About ACS
Active Cooling Solutions is a privately owned company that develops and manufactures cooling apparatuses for the laser market. The current chillers are powered by the TCT product to the extent they outperform any traditional chiller available on the market. (http://www.activecs.eu)