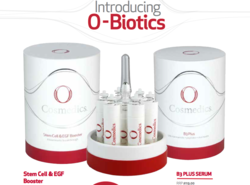 O-Biotics by O Cosmedics is set to blow your cells away with this international first!
Sydney, Australia (PRWEB) November 01, 2012
O Cosmedics launches two of the most active anti-ageing serums on the market, the Anti-ageing Mechanism Stem Cell & EFG Booster and Niacinamide and Immune Booster B3 Plus in their exciting new series called O-Biotic, spring boarding off its leading core range O Comsedics.
In a world first formulation and packaging, O-Biotic is a proven biomimetic breakthrough (Bios meaning life, Mimesis to imitate). The STEM CELL & EGF BOOSTER is an innovative blend of 3 biomimetic peptides that imitate the biological conditions found in healthy skin in order to activate the cellular and epidermal growth factor activity in the skin ultimately preserving the life of the cells. Biomimetic means that the peptides have a perfect affinity with the skin's own makeup which means they work with the skin to stimulate and enhance it's behavior. Stem Cell & EGF Booster promotes normal skin function and cellular optimization. Decapeptide-4 stimulates stem cell proliferation, Oligopeptide-24 increases production of fibroblasts and triggers E.G.F production and Olgiopeptide-73 is the antioxidant that preserves the life of the fibroblast and acts collectively as a powerful anti-ageing mechanism. Suitable for all skin types the Stem Cell and EGF Booster will assist in the prevention and correction of skin ageing and degradation and is proven to restore skin to optimum skin health. Used daily clinical studies demonstrate dramatic improvement in lines and wrinkles, inflammation, scar tissue and wound healing, considerably increase the skin's elasticity to give the skin volume and radiance. use morning and evening on clean skin.
Price: $129
Size: 1 Ampoule with a loaded bullet + 6 x 4ml refills.
B3 PLUS is another jewel in the O Biotic breakthrough treasure chest. The Niacinamide and Immune Booster serum it is a proven force in boosting the skin's immune system, treating hyperpigmentation, acne, rosacea, dramatically evening out skin tone, improving texture and restoring skin health. B3 Plus is a vital source of cell energy, optimizing cellular communication and reinforcing barrier functions inducing skin health and radiance.
The key ingredients in this power packed serum are;

12% Niacinamide - A multi benefit skin rejuvenator. Boosts the skin's immune responses and intercellular communication, promotes skin clarity, calms, treats hyperpigmentation, reduces H2O loss and retains fatty acids. Effective acne treatment, assists healing.
Stay C-50 - Stable Vitamin C with numerous skin benefits, converts naturally to L'Absorbic Acid when applied to the skin (reacts with a natural enzyme in the skin called phosphatase). A potent antioxidant, synthesises collagen and elastin, treats acne by reducing bacteria count of PP9 acne causing bacteria's (superior to treating with 5% Benzoyl Peroxide).
TrylagenTM - A combination of active peptides and proteins which restore collagen in the skin. Works in three ways. 1- Increases collagen synthesis, types I, III & IV. 2- Better organises collagen and process of fibrillogenesis which results information of collagen bundles, trylagen controls the bundles by making them uniform in diameter and spacing. 3- Protects collagen from degrading due to an increase in MMP (matrix metalloproteinases) and glycation.
B-White - A biomimetic peptide that targets skin lightening and brightening. B-White binds to TGF-b receptor of the melanocyte cell to inhibit the main enzymes involved in skin pigmentation.
L'Sodium Hyaluronate - Essential skin hydrator, plumps and smoothes the skin.
Use morning and night on clean skin.
Price: $129
Size: 1 Ampoule with a loaded bullet + 6 x 4ml refills.
Packaging
In another WORLD FIRST O Cosmedics has launched an application system which delivers both serums in a super-effective, high-tech ampoule mechanism. The revolutionary system is made up of 7 x 4ml bullets and a clear ampoule casing making this package not only skin friendly but travel friendly too. The ampoule comes loaded with the first bullet and once it is used it is removed and replaced with a new one. Once clicked into place the ampoule gets pumped once and the serum is applied directly onto the skin with a specially designed roller ball making for uncontaminated application of the product with no wastage!
For more information about O Cosmedics go to http://www.ocosmedics.com or for stockists contact +61 2 9712 8188
For more information on the O Cosmedics, for interviews with Marie or for products contact Vanessa Casamento +61 2 9690 0823 or vanessa(at)publissimo.com(dot)au Publissimo PR & Events