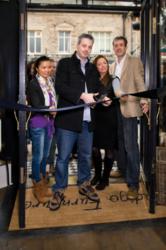 "I was over the moon to win the Indigo competition, and couldn't wait to come to Indigo to have the honor of re-opening the store" - Stuart Allen, competition winner
Matlock, Derbyshire (PRWEB) November 01, 2012
Customers of Matlock based Indigo Furniture were treated to a glittering reopening of their Dale Road showroom. After an intensive refurbishment undertaken in just 12 days the eccentrically British themed showroom, showcasing their beautiful furniture was unveiled to the public.
Unique items sourced by Indigo's creative team include a reconditioned telephone box now repurposed with a touch screen and a reclaimed oak floor, painstakingly restored at Indigo's Derbyshire workshop and installed by Indigo's own carpenters.
Crowds began to gather from 10am on Saturday 13th October to view the initial unveiling of the shop windows – autumnally themed and including an old station setting, a nod to Matlock's Peak Rail heritage.
At 11 am competition winner Stuart Allen was in place to cut the ribbon, after winning a nationwide competition run through Indigo's Facebook page. As the first customer to step into the new showroom, he also won a £500 voucher to spend that day on Indigo's extensive range of furniture.
Mr Allen of Staffordshire said "I was over the moon to win the Indigo competition, and couldn't wait to come to Indigo to have the honor of re-opening the store, and also making a new purchase of furniture."
Indigo Furniture's showroom is open 7 days a week Mon to Sat 9:00am to 5:30pm and Sun 11:00am to 5:00pm and their full collection can be found online at http://www.indigofurniture.co.uk.
For more information about Indigo Furniture please call 01629 581800