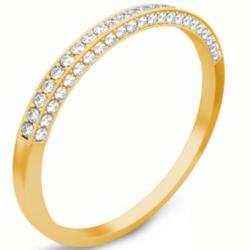 JewelOcean.com has a beautiful collection of rose gold engagement rings for women available at cheap prices
Baltimore, MD (PRWEB) November 02, 2012
Rose gold engagement rings are less common than white gold and yellow gold rings, making them very unique. The pink color of the gold makes the ring an elegant piece of jewelry, and some people even call it pink gold or red gold due to its magnificent color. As most men and women are not familiar with these rose gold rings, they make a fabulous wedding ring or engagement ring. Since rose gold engagement rings are so unique, they are known to be fairly expensive on the market. JewelOcean now makes it possible to purchase a rose gold ring without breaking the bank.
JewelOcean has updated its collection of rose gold engagement rings and rose gold wedding rings, with the latest designs for the cheapest prices. The designs range from a simple rose gold band with small rubies, to a rose gold band with larger rubies and diamonds. There are several different styles and occasions for each of the rose gold rings at JewelOcean. Whether a customer is looking for a rose gold promise ring, solitaire ring, wedding band, or engagement ring, JewelOcean has it all!
Rose gold rings for women come only in the finest 18k gold, with a round cut diamond or ruby centre stone. There are various designs, which give the customer the ability to choose their partner's favorite style. Rose gold engagement rings and rose gold wedding rings make for a one-of-a-kind choice, since it is something different from most rings on the market today. The copper alloy in the rose gold gives it its distinctive pink color.
Prices are very low on JewelOcean.com at this moment, as there are several sales taking place. This is the perfect time to buy a rose gold engagement ring, since the prices are at their lowest and most affordable. The rose gold rings range from $179 to $530 in price, with a guaranteed 30 day refund policy. Layaway options are available for the rose gold wedding rings, just like any other type of gold wedding band. The payment layaway policy page has more information on the subject for those interested.
If a customer truly loves the rose gold ring they have purchased, JewelOcean makes it easy for the customer to find matching jewelry. The company offers rose gold pendants, in addition to the rose gold rings. Now, women out there will definitely be noticed for their beautiful, elegant rose gold engagement ring and rose gold pendant.
JewelOcean, a leading online jewelry retailer, provides customers with only the highest quality rose gold engagement rings and rose gold wedding rings. Specializing in diamond rings, the rose gold bands are embedded with diamonds and rubies, to suit the customer's desire. Customer satisfaction is guaranteed, so be sure to visit JewelOcean.com for more information about their gorgeous rose gold wedding rings and pendants.