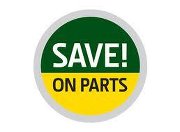 It really is a combination of factors that allows us to sell parts at discount prices... we pass along the savings directly to the customer.
Fishers, IN (PRWEB) November 02, 2012
Green Farm Parts, the largest John Deere parts dealer online, announces discount pricing on all new John Deere parts and the addition of John Deere parts coupons.
Formed in 2010, Green Farm Parts has become a premiere online source of discount John Deere parts, becoming the largest retailer of John Deere parts, offering over 470,000 unique part numbers. Green Farm parts sells only new OEM genuine John Deere parts and they sell them below John Deere list price, saving customers substantial amounts of money versus their local source, often between 5% - 40% savings!
Jeff Lawson, web site development and parts expert for Green Farm Parts, explains how they are able to offer their competitive pricing. "It really is a combination of factors that allows us to sell parts at discount prices. First of all, we have a very low overhead. And we offer customers fully illustrated parts diagrams online so they can find their part number easily. Combine this with our huge multi-million dollar inventory and negotiated shipping rates with our carriers, we pass along the savings directly to the customer".
The online store stocks over 97% of the parts on their web site every day. If they don't have a part in stock, they usually have it the next morning, as they receive a parts supply 6 days a week from the John Deere Parts Depot. For very large and heavy items, they can stock order those parts and turn them around for shipment in as little as two days. Parts are shipped quickly anywhere in the United States, Canada and US Territories via UPS and the US Postal Service.
"Customers appreciate the ability to order their parts online from the comfort of their home or office. We have customers tell us all of the time that they literally sit on the couch and shop in their pajamas and they like not having to drive to a dealer, which can be an hour away, and stand in line for a few parts", says Lawson.
In addition to the industry-wide low prices, Green Farm Parts also offers John Deere parts coupons online that can be applied to every order. They have created a web site, http://www.greenfarmpartscoupons.com, which list all of their current coupon codes. There is literally something for everyone.
The mission of Green Farm Parts is simple: Offer the best John Deere parts and accessories at a discount price and provide the customer quality customer service. Their parts professionals have hundreds of years of experience and they offer online chat during many customer service hours, as well as a toll free telephone number.
About Green Farm Parts:
Green Farm Parts is part of a John Deere dealership that has been in business since 1955, operating 8 stores in three states in the midwest. They sell parts for John Deere tractors, combines, Gators, lawn equipment, skid steers, light commercial equipment and golf & turf equipment. Their dealership is the primary John Deere golf and turf equipment sales group for Indiana, Ohio and Kentucky. In addition to the discount parts online store, they also sell John Deere toys, clothing and gifts at discount prices from their web site Green Farm Toys. They also sell used John Deere equipment directly to the consumer from their web site All Used Equipment.
Contact:
Jeff Lawson
877-620-6070
http://www.GreenFarmParts.com