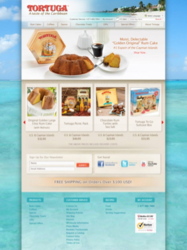 We are delighted with the new look and enhanced functionality of our website," says Monique Hamaty Simmonds, chief marketing officer for Tortuga International. "For our customers who cannot find our products in their local area, the site provides an easy
Grand Cayman, BWI/Montego Bay, Jamaica/ Miami, FL (PRWEB) November 02, 2012
With a fresh new tropical look, easy-to-navigate pages, simple one-page checkout, and numerous other new features, Tortuga International has transformed its website into a convenient Caribbean gift shop at http://www.tortugarumcakes.com. The new website was developed by Cayman Islands-based Sand Dollar Studios.
Shoppers will discover mouth-watering images of Tortuga Rum Cakes available in various sizes and seven Caribbean flavors as well as Tortuga's Taste of Florida Rum Cake line. Other products include Caribbean sauces, Chocolate Rum Treats, flavored coffees, and the company's latest product, Tortuga 100% Jamaica Blue Mountain Coffee. Caribbean Gifts and gift baskets are also available – and for the undecided, Tortuga gift certificates have been added.
The Tortuga brand is well-known by the more than 20 million annual Caribbean tourists and cruise ship passengers. Tortuga Caribbean Rum Cakes are the world's #1 selling rum cake and named the 2012 "Best Cruise Souvenir" by Porthole Cruise Magazine for the eighth consecutive year. Tortuga products are sold in gift and specialty food departments and gourmet stores throughout the Caribbean and North America and in on-board gift shops of nearly 100 cruise ships. Quantities without retail packaging are available for food service.
Founded in the Cayman Islands in 1984 as the Tortuga Rum Company, Ltd., Tortuga International is part of Jamaica Producers Group of companies and has bakeries and operations in Grand Cayman, Jamaica, Barbados and the Bahamas. The company's Miami, Florida subsidiary, known as the Tortuga Rum Cake Company, handle sales, marketing and worldwide distribution. See http://www.tortugarumcakes.com or call toll free 1-877- 486-7884.