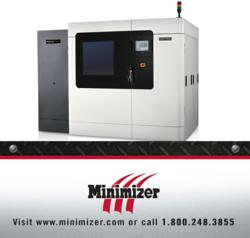 Blooming Prairie, MN (PRWEB) November 01, 2012
Earlier this year Minimizer's operations team was analyzing how Minimizer could convert ideas to reality and get new products to market quicker. They were presented with a three-dimensional prototyping system from Stratasys Engineering based in Eden Prairie, Minnesota.
After careful consideration it was agreed the sizable investment would help Minimizer propel innovative ideas to market faster. The machine is part of the Fortus category of Stratasys products. Specifically, it is the 900mc 3D Production System. This system offers virtually real-time 3D printed thermoplastic and end-user parts through Fused Deposition Modeling (FDM).
"The capital investment here clearly allows Minimizer to expand its target market," stated Craig Kruckeberg, Minimizer's Chief Visionary, "And now we have the ability to offer customers short-run parts without the expense of injection molding or CNC machining. We can also provide customers conceptual models, end-user parts, functional prototypes, and even in-house manufacturing jigs and fixtures."
Minimizer now has a much speedier time-to-market because the technology allows for a much more efficient design cycle for new products. With a build envelope of 36" x 24" x 36", it also allows Minimizer to make larger parts than what was offered with other prototyping machines.
"Minimizer can use the Fortus 900mc as a design tool, to verify product geometries and materials, to save time and money operationally, and use it for structural parts," said Stratasys Company representative Matt Havekost.
"Minimizer continues to grow and succeed because we want to make bold investments like our new Stratasys prototyping machine that help move our company forward and create innovation in our industry," said Craig Kruckeberg, Minimizer's Chief Visionary.
Minimizer fenders will enhance the performance of all makes and models of over the road trucks, construction vehicles, or agriculture equipment. Enhance and protect your vehicle with Minimizer products. The toughness is unmatched as seen on this Minimizer promotional video entitled "Tested & Tortured".
For more information or to contact a dealer, call us at (800) 248-3855 or visit our website or email us at info (at) minimizer (dot) com.
About Minimizer
Headquartered in Blooming Prairie, Minnesota, USA, Minimizer manufactures poly truck fenders, poly toolboxes, custom mud flaps, and bracket kits. Family owned and operated for nearly three generations, Minimizer parent company Spray Control Systems, Inc., was founded in 1983. Minimizer aims to provide products tough enough to please tough people in a tough industry. For more information call (800) 248-3855 or visit http://www.minimizer.com.