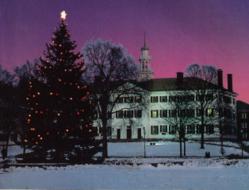 Hanover, New Hampshire (PRWEB) November 02, 2012
Hanover, New Hampshire home to Dr. Seuss (aka Ted Geisel, Dartmouth Class of 1925) knows that at this time of year, visitors seek a traditional New England holiday that comes WITH "packages, boxes and bags."
To help put guests in a holiday mood, The Hanover Inn at Dartmouth is offering a "Holiday Romance Package," starting at $239* per night (Nov 18-Dec 30, 2012) which includes overnight accommodations in the just-completed $41 million floor-to-ceiling renovated guestrooms, a bottle of wine and a special holiday memento. The package is available seven days a week. Reservations may be made online at http://www.hanoverinn.com or by calling 800-443-7024.
Outside the door of the Inn, in the heart of Hanover at the intersection of Wheelock and Main Streets and overlooking the Dartmouth College green, guests will find the tax-free boutique-and-bookstore shopping that has won Hanover acclaim as one of the "best places to live" (CNN/Money Magazine) and "super cool cities" (travelormove.com). Hanover launches its "Celebrate the Holidays" season on Friday, December 7 from 4 to 8 pm when visitors can meet Santa, take a horse drawn wagon ride, listen to performances by local artists and enjoy extended hours and shopping specials from downtown businesses. At 5:15 pm, Dartmouth College holds its traditional tree-lighting ceremony and community caroling on the Green.
About The Hanover Inn (http://www.hanoverinn.com)
Founded in 1780, The Hanover Inn at Dartmouth is where tradition meets sophistication. Owned by Dartmouth College and located directly across from the Dartmouth Green, The Hanover Inn is a proud member of the National Trust for Historic Preservation's Historic Hotels of America and a Preferred Boutique Hotel. Managed by the Pyramid Hotel Group, The Hanover Inn's recent floor-to-ceiling renovation, completed in June 2012 by renowned Interior Designer Bill Rooney, features 108 luxurious guest rooms and suites, a redesigned lobby, and renovated public spaces. The Hanover Inn's Minary Conference Center offers over 11,000 square feet of state-of-the-art meeting and event space, including the Hayward Ballroom, seven executive meeting rooms, and a 4,000 square foot grand ballroom opening November 1. The Hanover Inn will open its signature farm-to-table restaurant, created by one of New England's best-known chefs, in March 2013.