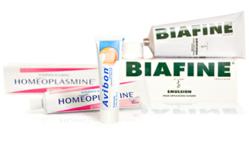 Biafine, Homeoplasmine, and Avibon are available now in a sampler pack for consumers to try all 3 since they are normally only sold over-the-counter in France.
New York, NY (PRWEB) November 05, 2012
Biafine, BiafineACT, and Homeoplasmine can now be purchased online with free shipping worldwide, tracking, and guaranteed delivery via three new websites from Avibon.com. They are: BiafineACT.com, Biafine.us and Homeoplasminecream.com.
For those unfamiliar with these iconic French beauty products, Biafine and Biafine ACT have been used over-the-counter in France for 25 years for sunburns, scrapes, and post-op healing from plastic and reconstructive surgeries, burns, facial peels, dermabrasion, and chemotherapy. Biafine emulsion and BiafineACT are derived from a plant base with the active ingredient Trolamine.
Homeoplasmine cream is another OTC French ointment with similar rave reviews from top fashion magazines used for healing dry and cracked skin and lips; especially in winter. Make-up artists buy Homeoplasmine online as their secret weapon for making models look fresh and hydrated before shoots.
Avibon pure vitamin A has been featured in VOGUE, Style, and other magazines for its ability to zap wrinkles. When rubbed onto the surface of one's skin, the body converts Avibon into a mild form of retinoic acid (retinol) like more expensive and harsher products such as Retin-A.
With such products only sold in France, consumers are eager to learn first-hand about their legendary benefits, which is why Avibon.com also has announced its new sampler pack of 3 top sellers at a discounted rate: Biafine, Homeoplasmine, and Avibon.
Several promotions are currently being run including a free large Homeoplasmine when consumers buy 2 or more Avibon, and a free Avibon when consumers buy two or more Homeoplasmine, Biafine, or BiafineACT.
All orders include free shipping worldwide with tracking and money-back guaranteed delivery. The sampler bundle of Avibon, Homeoplasmine, and Biafine is available for a limited time and currently sells for $89.
Avibon.com is an independent online distributor with offices in France and the western U.S. Product names and trademarks listed above are the property of their respective owner entities.