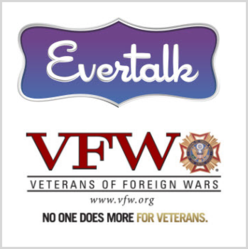 "...our nation's heroes must be remembered, respected, and celebrated for their service. This is why we are excited to partner with the VFW to advance the 'Remembering our Heroes' initiative." said Russ Hearl, CEO and Founder of Evertalk
San Francisco, CA and Kansas City, MO (PRWEB) November 01, 2012
This Veterans Day (November 11, 2012), Evertalk and the Veterans of Foreign Wars (VFW) are joining forces to create a digital memorial & tribute wall for veterans of the armed forces who have bravely served our country. This partnership lets members of the VFW create free tribute pages and memorial sites for Veterans and servicemen and women they wish to recognize for serving our country. Over 1.6 million VFW members will be able to leverage this partnership with Evertalk using their app on Facebook and also available through the Evertalk iPhone app. Anyone can create a free tribute page, memorial site and fundraising campaign by going to: https://www.everta.lk
With each completed page, a special Evertalk internet memorial & tribute wall is being dynamically built. Each Evertalk page offers visitors to the page the opportunity to share their own photos, post memories in the guestbook, donate to special causes, and learn about the lives of our nation's heroes. These pages can then be easily shared via Facebook, email, and Twitter, directly through the Evertalk application. Evertalk is providing this service to VFW members at no cost. The VFW tribute and memorial wall can be found on Evertalk here: https://www.everta.lk/evertalk/partners/view/1
"Our nation's heroes should never be forgotten. That's the driving belief behind our new partnership with Evertalk. We're excited that together, we're able to provide our members with the opportunity to honor the lives and legacies of their brothers and sisters in arms," says Randi Law, Manager, VFW Communications and Public Affairs.
Creators of Evertalk tribute pages may also enable Evertalk's innovative crowdfunding capabilities on their Evertalk page to raise money to donate to special causes or to assist families with hospital bills.
"The Evertalk team passionately believes that everyone deserves to be remembered. We strongly feel that our nation's heroes must be recognized and celebrated for their service. This is why we are excited to join forces with the VFW on this great program." said Russ Hearl, CEO and co-founder of Evertalk. "Millions of servicemen and women aren't represented on physical memorial walls or statues. So, we think it's important to give the families of our brave heroes the ability to create their own space online using Evertalk so they can ensure their memory lives on."
About Evertalk:
Launched in July, 2012 and based in San Francisco, California, Evertalk combines beautiful memorial & tribute pages with fundraising features that let users easily tell the life stories of their loved ones, friends, and heroes. Evertalk is also the only native Facebook application for remembering your loved ones. It's free to create your first Evertalk page or fundraising campaign. Evertalk users can easily send notifications, share photos and videos, donate to help families raise money for hospital bills, and post memories to guestbooks. To learn more go to: http://www.everta.lk
About the Veterans of Foreign Wars (VFW):
The Veterans of Foreign Wars of the U.S. is a nonprofit veterans service organization composed of combat veterans and those currently serving in uniform. Founded in 1899 and chartered by Congress in 1936, the VFW is the nation's largest organization of war veterans and its oldest major veterans organization. With more than 2 million members located in more than 7,400 VFW Posts worldwide, NO ONE DOES MORE FOR VETERANS. VFW and its Auxiliaries are dedicated to veterans service, community service, legislative advocacy and military service programs nationwide. For more information or to join, visit our website at http://www.vfw.org.