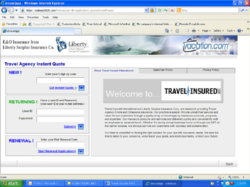 "For years we've heard from travel agency and tour operator partners that have expressed interest in additional competitive offerings in the marketplace for E&O coverage," according to Marc Flood, SVP of Business Development for Travel Insured
East Hartford, CT (PRWEB) November 08, 2012
Travel Insured International® announced today that it is now offering comprehensive Errors & Omissions (E&O) Insurance exclusively for travel agencies and tour operators throughout the U.S. In partnership with Liberty Mutual Group of Companies and Managed Insurance Services, Travel Insured has launched a state-of-the-art on-line portal that allows both agency and tour operator owners to not only get an on-line E&O quote, but to bind and pay for as well.
"For years we've heard from travel agency and tour operator partners that have expressed interest in additional competitive offerings in the marketplace for E&O coverage," according to Marc Flood, SVP of Business Development for Travel Insured. "We're very excited about the strength of Liberty Surplus Insurance Corporation, coupled with the intuitive on-line technology that makes shopping and paying for the coverage quick and easy. Our desire is to be the very best travel insurance partner we can be for our agency partners – and this is just one more way that we're delivering on that promise," according to Flood.
In addition, Travel Insured has negotiated an exclusive consortium arrangement that will allow select travel consortiums/associations and their members the ability to realize an additional 25% savings when purchasing E&O insurance. The first major consortium to launch is Vacation.com.
According to Vacation.com President John Lovell, "After testing the on-line portal with several of our Agency Advisory Board Members – it was a unanimous no-brainer. Travel Insured has been an outstanding preferred supplier to Vacation.com with their award winning travel insurance product line. We expect to encounter the same success with their new E&O coverage."
Travel Insured International® is one of the largest privately held travel protection companies in the US, and preferred supplier to over 5,000 travel agents, travel consortiums and wholesalers in the US and abroad. As a former division of the Travelers up until 1994, and originator of travel insurance in the US, you can say that the "travel protection" blood lines run deep. Travel Insured International's customer centric claims operation has significant expertise in both domestic and international claims administration.
Travel Insured International
52-S Oakland Ave.
E. Hartford, CT 06128-0568