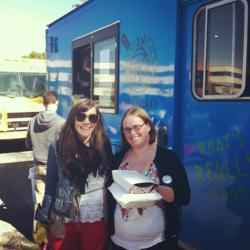 Food Truck Tuesdays on Northwestside raises more than $200 for philanthropy.
(PRWEB) November 02, 2012
Some of Indianapolis's favorite food trucks—including Scratch Street Food, Der Pretzel Wagen, and In a Pita—have joined staff at Kappa Alpha Theta headquarters in the College Park area for a month-long food truck festival. A portion of the proceeds from Food Truck Tuesdays has been donated to the Kappa Alpha Theta Friendship Fund, which provides support to Theta families experiencing extreme financial hardship due to serious or terminal illness, job loss, natural disaster, and other devastating occurrences.
Thanks to the participation of employees from neighboring offices, more than $200 has been collected for the Friendship Fund.
Due to inclement weather on October 30, Bryne's Pizza, Flying Cupcake, and Spicebox will park at 8777 Purdue Rd., on Tuesday, Nov. 6.
Kappa Alpha Theta, founded in 1870 at DePauw University (then Asbury College) in Greencastle, Ind., is recognized as a leader in the Greek community in terms of programs for members, scholarships awarded, and chapter excellence. Kappa Alpha Theta supports 129 college chapters and 185 alumnae chapters across the US and Canada. Membership totals nearly 220,000.