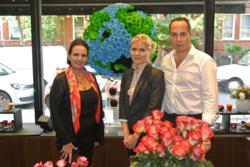 London, England (PRWEB) November 02, 2012
OnlyRoses Ltd®, is launching its successful InfiniteRoses™, a long-lasting rose, to luxury business operators in North America this fall. Founder, CEO Sabine Schmitt said, "With our five year anniversary upon us, we have been working on our brand expansion plan." She went on to say, "Our most discriminating customers know OnlyRoses stands for the world's finest roses."
Today OnlyRoses UK supplies InfiniteRoses™ arrangements to leading luxury brands. Tracey Woodward, Commercial Director at world leading luxury retailer, Harrods' Urban Retreats relies on OnlyRoses to give her operation that extraordinary look of luxurious beauty. "OnlyRoses' product line, InfiniteRoses™, helps us create a space that is affordable and offers effortless glamour," Woodward explained.
OnlyRoses launches in North America, headquartered in Chicago, and offers luxury business operators natural rose arrangements on a monthly contract basis. The rose arrangements can last up to sixty days in a retail or hospitality environment and do not require water or refrigeration to keep their natural beauty. "OnlyRoses is innovative and provides operators a way to reduce cost without compromising the beauty their business and customers demand," said Shelley Rosen, President of OnlyRoses North America. With an early stage roll-out, the market acceptance is high. One luxury operator claims, 'These roses really solve problems for our fine dining club."
Anian Schmitt, Chief Operating Officer of OnlyRoses Ltd said, "We signed an exclusive North American deal to bring our InfiniteRoses™ business to the USA successfully."
OnlyRoses Ltd, a privately held and operated business, offers only the finest, freshest premium Ecuadorian roses in the UK, with over 250 varieties direct to the consumer. They recently launched the innovative InfiniteRoses™, a long-lasting rose. OnlyRoses is 100% ethically sourced. All OnlyRoses bouquets are arranged daily with expertise and care at one of their London branches. OnlyRoses operates rose shops in Central London along with an e-commerce and delivery business. OnlyRoses just signed their first retail franchise agreement in Dubai, United Arab Emirates.
Visit: OnlyRoses North America
Visit: OnlyRoses United Kingdom