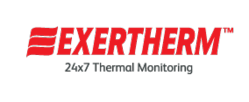 Exertherm™ mitigates the risk of electrical failure, and increases facility / operator safety via eliminating the need to place people in areas designated as "at risk"
London, UK (PRWEB UK) 1 November 2012
Increasing regulations means that enhanced workplace safety is now having to be recognised as a key requirement within industry. This is becoming more apparent in standards internationally; for example, 2012 alterations to NFPA-70E (USA National Fire Protection Association: Standard for Electrical Safety in the Workplace) means the ability for operators to carry out periodic inspections in close proximity to equipment rated as 'Hazardous' will be subject to even greater restrictions. In addition, the classification of what is deemed 'Hazardous' is also being redefined to a lower threshold, thus expanding the areas designated as placing people "at risk".
Electrocutions are the 4th leading cause of occupational fatalities and so implementation of continuous thermal monitoring, where sensors are permanently installed inside the switchgear to provide continuous temperature data, means that the risk of operators being in close proximity to / or opening panels in order to undertake thermographic scans or work on live equipment, is essentially removed.
Being within an area designated as "Hazardous" is not reduced by the use of Thermal Windows, and the safety requirement and restrictions still apply. A common misunderstanding of the description of "Arc Flash Resistant" when applied to such windows, is that it only applies with the window covers being in place, it does not apply when the covers are removed to enable inspection.
The HSE: "Keeping Electrical Switchgear Safe" states that, "it is the duty of all users of switchgear to provide systems that will ensure safe operation and minimise the risk of injury." The HSE also mentions the advantages of condition based monitoring. To an extent, thermal scans do dictate maintenance by need as revealed by inspections; however, this is both intrusive and periodic. 24x7 Thermal Monitoring in non-invasive and provides continuous data assisting users by delivering:
(a) confidence in the continuing safety and reliability of the switchgear;
(b) a sound basis for making informed management decisions on plant repair, replacement or refurbishment;
(c) potential cost-reduced maintenance due to better maintenance schedules and prolonged life of equipment
24x7 Thermal Monitoring provides predictive maintenance, via the condition monitoring of the critical components, with the data being viewed remotely via it's integration into the computer based systems ( e.g. BMS / EMS). Thus all data and analysis can be completed without the need to place anyone in a designated Hazardous area. Periodic Thermographic inspections however, are normally carried out on an annual basis,( typically one day per year), thus only finding a fault where it has developed sufficiently to be visible, but not having reached the point of failure e.g. a single snapshot in time. Additionally, it requires the thermographer to be in close proximity to the equipment, and in some cases to open panels.
There are several challenges for Thermography when considering workplace safety combined with 'best practice':

Electrical circuits must be energized and loaded for effective inspection.
The worst hazards are not always apparent.
Opening panels is dangerous and BSRIA has stated that for thermography "…the best results will invariably be obtained by removing the panel covers, screens etc and inspecting live exposed components…"
Some organizations prohibit inspection of energized higher voltage or hazard equipment
Focus for workplace safety is on identifying hazards & assessing / reducing risk to both operators and equipment:
Eliminate the hazard – higher level mitigation in place
24x7 Thermal Monitoring provides real-time continuous data, this enables management to make more informed decisions about maintenance and ensure that their operators do not have to work in close proximity to / open panels on live switchgear.
Reduce the risk by design
Permanently install Exertherm™ 24x7 Thermal Monitoring inside switchgear – provides built in protection as standard without compromising the integrity of the facility / power system design.
The majority of safety regulations do not stipulate exactly how, by whom, or how frequently inspections should be carried out. However, to truly create a safe electrical environment then 24x7 Thermal Monitoring should be considered 'best practice' over thermal scans, where a 5 minute inspection twice per year represents monitoring 0.002% of the available time.
Exertherm™ offers facilities a safer, more efficient way to detect potential electrical problems / failure via permanently installed Infrared sensors that monitor 24x7 while maintaining an enclosed energized operating environment, preserving a steady state inside the cabinet.
This eliminates the increased level of risk associated with open-panel inspections, therefore increasing both facility / operator safety, aids in scheduling maintenance, potentially prolongs equipment lifetime, helps facilities comply with workplace safety standards, increases uptime and overtime reduces overall costing.
About QHi-Group:
Operating globally from offices in the UK, Europe and the USA the QHi-Group provides a new approach to mission critical monitoring, delivering a comprehensive and unrivalled range of solutions from continuous thermal monitoring through to the management of complex energy systems…
Exertherm™ - the unique non-contact infrared continuous thermal monitoring system is now increasingly being recognised as new 'best practice' over thermal imaging for monitoring mission critical applications.
Exertherm LoadMap™ - a new predictive tool that will dynamically detect and identify compromised joints/terminations on circuits operating at low loads via collation of temperature/metering data
Vigilance™ - a new approach, providing a vendor neutral, modular & scalable Energy Management System built on an open protocol platform
…for further information please contact:- Dan.Thomas (at) Qhigroup (dot) com