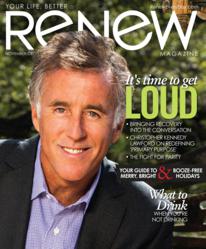 I couldn't find [a recovery magazine], so I decided to take it on myself. I felt it was my calling.
Chicago, Illinois (PRWEB) November 01, 2012
Renew magazine, the No. 1 magazine and resource for the recovery community, is happy to announce its upcoming third year of production.
Renew Media — which produces Renew magazine and its companion website RenewEveryDay.com — is celebrating its third year of existence as the new year approaches. In its two-year infancy, the magazine and website have seen considerable growth, support and high praises from all levels of the recovery community. The media company is also working to create and provide the highest level of treatment resources for those looking for help with its soon-to-be, online "Renew Treatment Finder." Launch of the resource is planned for the end of the year.
Renew publisher and president James Moorhead says Renew's continued success emphasizes the great need for a media outlet geared toward individuals in addiction recovery. He and the Renew team are thrilled that they can fill a void that has been empty for so long.
Moorhead — who is fast approaching his own five-year anniversary mark of entering addiction rehabilitation — says that when he embraced sobriety, he was looking for magazines and content that were catered to his recovery interests while also being a resource.
"I couldn't find one, so I decided to take it on myself. I felt it was my calling."
Moorhead created Renew media on the basis that helping support individuals and their loved ones recovering from drug and alcohol addiction is of utmost importance. Renew does that by providing engaging information and resources to keep the community connected with each other — and to encourage the public to embrace a healthy new lifestyle. Since its creation, the magazine and RenewEveryDay.com have expanded to also aid those in recovery from other addictions — sex, love, gambling, food and more.
Moorhead says he's proud he can showcase the positive side of recovery, which also alleviates some of the stigma associated with addiction. Too often, he says, those who have found recovery keep quiet. This silence perpetuates falsehoods that complete recovery isn't possible and that addiction only touches a certain demographic, gender, economic class — the full range of addiction stereotypes.
In 2012, Renew was featured on "The O'Reilly Factor," "The Ricki Lake Show," and shared the recovery stories of stars such as Christopher Kennedy Lawford, Dr. Drew, Andrew Zimmern, Casey and Kerri Walsh-Jennings, Joe Pantoliano, William C. Moyers and more. Laurie Dhue, veteran national newscaster and recovery advocate, also joined the Renew team as editor at large saying she's proud and grateful to be part of the Renew family.
To learn more about Renew magazine or to subscribe, visit RenewEveryDay.com, which is an online beacon for the recovery community with daily articles, personal stories of recovery and helpful how-to's.