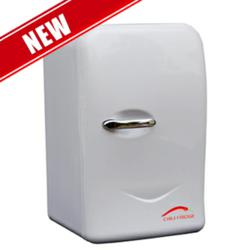 (PRWEB UK) 3 November 2012
CNM Online introduced a complete range of mini cooler on its diverse product line. The introduction delights people from all strata with the guarantee of cooler summer this year. With the onset of global warming, summers have become more humid and dry with the rising temperature every year. With the first rise in temperature, people start looking forward to the rains and colder weather. It becomes mandatory for the residents of the top floors of various buildings to use cooling appliances, due to continuous exposure to heat and humidity. Absence of such appliances makes summer season a troublesome one, indeed. Earlier, spacious homes could possess more than one fridge to accommodate food, cold drinks, water, ice, etc. However, with the onset of the space crunch, people hunt for schemes for saving space. One such product that saves is mini cooler. These mini refrigerators are not only portable but also compact in size.
Mini coolers adjust to spaces in utility rooms, or sheds, and even other places like caravans, garages, and mini kitchens in hostels. The size of mini cooler makes it possible to carry them on travelling, making every outing an interesting one. No sooner did the temperature increased, CNM Online decided to introduce a range of mini cooler in diverse sizes, styles, and price, from a number of leading brands, for the comfort of consumers. What makes mini cooler interesting is their exceptional design in various sizes. Many models of mini coolers have adjustable shelves inside for the comfort of users. With the inbuilt adapter and power cables, hostel students can easily use these mini coolers. They can afford it with their pocket money and make study night outs more interesting. Husbands will not have to worry about storing their alcohol with mini coolers in their bar or bedroom.
Mini coolers can adjust in mobile homes. People with tiny kitchen can fit mini coolers almost anywhere. With miniscule power consumption, the temperature of mini cooler can be adjusted to suit every requirement and temperature outside. CNM Online has offerings like counter fridge, table top or wine freezer, chest freezer, ice cube machine, etc. People can now make any season like the winter one with this huge invention. CNM Online has mini coolers that suit the budget requirement. With their compact size, mini coolers can adjust even on office desks or under the desk to supply chilled glass of water in soaring temperature. As they are well within the budget, mini coolers do not trouble on budget fronts ever with the lowest consumption of power. Their working will not reflect on the bills ever. Bigger refrigerators make their presence felt with their continuous noise. The hostel students can study in a quiet room with the low noise of mini coolers. Employees in the office can control the water flow and other function of the mini cooler like the speed of the fan, timer, etc. with the remote control.
Elated on the introduction of new products on their site, Senior Spokesperson at CNM Online says, "Every product on our website is a promise from our side to offer quality and convenience to customers. With mini cooler, we take convenience and comfort to the next level. We assure our customers to do the same in future."
For more information about mini cooler, visit http://www.cnmonline.co.uk/Fridges-c-1768.html
About CNM Online
CNM Online is a family run business founded in 2004. The site has more than 200,000 customers and believes in offering solutions rather than products. The largest supplier of heating products for home, CNM Online offers a range of efficient and affordable solutions.