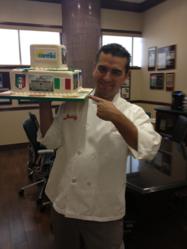 Anaheim, CA (PRWEB) November 01, 2012
Contiki Vacations, the worldwide leader in unforgettable travel packages for 18-35's, is a proud supporter of The Momma Mary Foundation and its first annual gala dinner in support of ALS ("Lou Gehrig's disease) research. The Foundation was created by Buddy Valastro of Carlo's Bakery in Hoboken, New Jersey (TLC's "Cake Boss") after his mother Mary was diagnosed with ALS.
The gala dinner took place on Tuesday, October 23, 2012, at the Rockleigh Country Club in Rockleigh, New Jersey. Contiki provided a certificate for a trip for two on their Simply Italy tour to auction off at the gala dinner, which hopes to raise over $500,000 to create awareness and raise enough support to ultimately find a cure.
As a thank you to Contiki, Buddy and Carlo's Bakery created a two-tiered Contiki cake, complete with Italian emblems. The Cake Boss himself took the time to pose with the cake, which also featured some of Italy's iconic sights.
About Contiki
For 50 years, Contiki has inspired 18 – 35 year olds to make every moment count by traveling to the world's most fantastic destinations. The trips are hassle-free and include the perfect mix of sightseeing, culture and free time. Travelers can choose from over 200 itineraries throughout Europe, Russia, Egypt, Asia, Australia, New Zealand, Canada, Latin America, & the USA. For more information, please visit http://www.Contiki.com