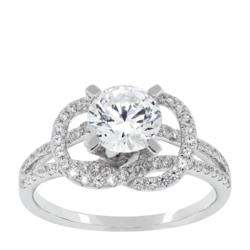 We are seeing the jewelry trends move towards rings with twisted and swirled bands, since they create visual interest and are very feminine
(PRWEB) November 01, 2012
There will be fifteen new engagement ring designs released, including those featured in the Petite Swirl collection. All of the rings will be available in 14K Gold, 18K Gold, Platinum and Palladium.
"We are seeing the jewelry trends move towards rings with twisted and swirled bands, since they create visual interest and are very feminine. The soft detailing makes for an elegant ring that compliments every woman," commented Jennifer London, Social Media Coordinator.
Each of the new engagement rings is being offered with matching bands to perfectly fit each style. The bands are sold separately, though many customers prefer to purchase both together for convenience.
"One piece that really stands out to me is the Emily wedding set. The band is referred to as a 'jacket' style band, since the matching band fits around the ring, holding it neatly inside, just like a jacket. We are also coming out with a few asymmetrical rings, that offer incredible design and modern flair," London stated. "My favorite is the Marguerite, which is delicate, asymmetrical and incredibly sparkly.
Diamond Nexus was founded in 2004 with the purpose of bringing to the public the powerful benefits of the lab-created diamond simulant revolution. They have over 250,000 customers worldwide that have awarded them an "A+" rating with the BBB, and are the ninth largest online jewelry retailer in America according to the 2011 IR500 list. For two years in a row brides from The Knot have selected them as their Best of Jeweler. Diamond Nexus currently has two retail locations: their flagship store at Woodfield Mall in suburban Chicago, Illinois, and a second store at Mayfair Mall in Milwaukee, Wisconsin. In 2009 the company was named the official jeweler and crown maker of the Miss Universe Organization as part of NBC/Universal's "Green is Universal" environmental initiative.