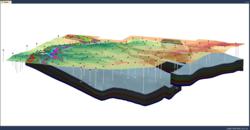 "...come and feel the pulse during Quebec Mines 2012..." -- The Honourable Serge Simard, Minister for Natural Resources, Quebec
Vancouver, BC, Canada (PRWEB) November 04, 2012
MICROMINE, the leading global provider of intuitive software solutions to the exploration and mining industry, in a show of support to the mining industry of Quebec, will join with more than three thousand attendees to participate in the annual Quebec Mines 2012 Convention and Trade Show, 26-29 November 2012, in Quebec City, Quebec, Canada. The theme for this year's event is "Of Mines and Men." Québec Mines 2012 will bring together all the stakeholders in mineral resource development in Québec, including the scientific, economic, industrial, governmental, business, and mineral exploration and mining sectors. A number of key partners is involved in this crossroads of geoscience and mineral resources, including the Canadian Institute of Mining, Metallurgy and Petroleum (CIM), Québec Mining Association (QMA) and the Comité sectoriel de main-d'œuvre de l'industrie des mines (CSMO mines).
Mining plays a key role in Canada's economy and the world. In the 2011-2012 Fraser Institute's Annual Survey of Mining Companies, Quebec was ranked fifth in the world and third in Canada as the most attractive jurisdiction for mineral exploration and development. Quebec's huge mineral potential and positive investment climate make it attractive. The number of development projects has more than doubled in the past two years from 16 to 38. There are over 200 mines, 23 of them underground, extracting more than 15 elements. In a show of support for this important industry, the Quebec Government launched Plan Nord in 2011. This is a twenty-five-year plan which includes an investment of C$80 billion and creation of 20,000 jobs every year. Plan Nord's mission is to be "an exemplary sustainable development project combining energy, mining, forest, bio-food, etc." Mining projects launched in the Plan Nord area could create investments of C$8 billion. Xstrata Nickel is one of those companies committed to this region who has invested hundreds of millions of dollars in the Raglan and LaRonde mines.
MICROMINE's expertise in the mineral exploration and mining industry contributes to the increased productivity, lower costs and operational control that help mining companies across the globe maximize their profitability. MICROMINE is pleased to have partnered with significant mining companies who operate in Quebec such as Xstrata, Agnico Eagle, Rio Tinto Diavek, Teck, BHP Billiton and Arcelor Mittal.
MICROMINE's Canada team will be meeting with convention visitors during the trade show. Mr. Dallas Araneda, Business Solutions Executive, Mr. Jonathan Thompson, Business Solutions Executive - Pitram, Mr. David Sinclair, Database Management Specialist, Mr. Alan LeBlanc, Senior Technical Support Analyst, will be on hand to showcase MICROMINE's latest product offerings such as Geobank Mobile and Coal Measure, along with Micromine, Geobank and Pitram.
MICROMINE is headquartered in Perth, Australia, and has more than 12,000 clients in over 90 countries. Founded in 1986, the software developer has grown from a three-person operation to more than 280 staff around the world in 21 offices. MICROMINE develops a full range of mining and exploration software solutions which span the entire mining process from geological exploration to mine production management. The company is proud to have received many industry awards recognizing the strength of its products and outstanding export achievements as it contributes to responsible and sustainable mining globally.
Please contact us at:
MICROMINE Canada
1400-1166 Alberni St.
Vancouver, B.C. V6E 3Z3
604.646.8924
mmcanada(at)micromine.com
####
About MICROMINE
With over 12,000 clients in more than 90 countries, MICROMINE is a leading provider of intuitive software solutions for the entire mining process. MICROMINE understands the software and consultancy needs of exploration and mining operations around the world. Located in 20 of the world's major mineral producing capitals, our team is close to your operation. This means MICROMINE can provide local support and services in your language and time zone. MICROMINE's intuitive solutions are delivered by a team of specialists who understand the software and how it can be integrated into an operation for maximum results.