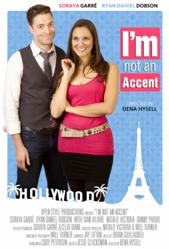 Los Angeles, CA (PRWEB) November 01, 2012
I'M NOT AN ACCENT director, Dena Hysell, and producers Celia Diane and Soraya Garre are proud to announce that "I'M NOT AN ACCENT" a short romantic comedy film starring Soraya Garre, Ryan Daniel Dobson, Sian Vilaire, Natalie Victoria and Danny Pardo will get its world premiere screening at the American Independent Film Festival on Thursday November 1st, before feature film ASSISTED FISHING.
"I'm not an Accent" is the story of a French immigrant woman in her 30s who is determined to prove to those living in her new United States home that she is indeed more than a French accent! The comedy humorously wrestles with professional, personal, and romance struggles as the woman takes them all on, one by one, learning who she really is along the way.
Soraya explains how "having an accent has repeatedly come in the way of [her] beaching a working actress in America." But she adds: "If I were going to write a story about having an accent, I knew it had to resonate in people's minds at a more universal level than that of actors with accents in Hollywood. I decided the idea of a writer struggling to get a job because she has an accent, was a bit more relatable."
"I'm not an Accent" was directed by Dena Hysell who loved the script and further explains why she decided to join the production team despite the initial challenges: "It is this very human story of someone trying to fit in, and not fitting in until she stops denying who she is. The writing was solid, and the lead actress was talented, but I was walking into a very unusual situations. There were a couple of scenes which had been shot by a previous director, and the whole crew was already on board. Was I up for this? My heart said yes, that this was a story that needed to be told. I jumped on board, and the productions was off at a million miles an hour."
The result is a delightfully entertaining short with a clear message. As Soraya puts it: "People tend to judge quickly based on appearances, but also based on one's way of expressing themselves. I wanted to shed light on this silent discrimination from a light-hearted, romantic-comedy point of view -- a woman struggling to find a job in a new country, looking for love and meaning in her life." Dena further underlines the universality of the message: "I think it's a story that rings true for all of us, and while her struggle is with an accent, every person has that part of themselves that they have to make peace with. And just like our lead character, each person is not defined by that one piece of themselves."
"I'm not an accent" is a self-funded project, written by Soraya Garre, directed by Dena Hysell, and produced by Open Style Productions, with Celia Diane and Soraya Garre leading the production team.
"We are excited to premiere our short at the American Independent Film Festival, see the reactions of the audience so that we can better develop the feature version of the short. "
About the American Independent Film Festival
The American Independent Film Festival celebrates the work of indie filmmakers. It is a unique platform for new talent and a tour-de-force of low-budget creativity and innovation. The Festival attracts an amazing array of filmmakers from across the world and offers film industry professionals in LA an extraordinary chance to glimpse the future of cinema.
The American Independent Film Festival runs at the same time, and just around the corner from, the American Film Market in Los Angeles.
For more information visit online at http://www.filmfestival.us/
About OPEN STYLE PRODUCTIONS
Open Style Productions is a full service production company based in Los Angeles, CA. Open Style Productions Films creates, writes, develops, and produces educational web series "Oh la la, I Speak French", and has just started developing its first indie film project.