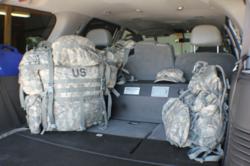 Austin, TX (PRWEB) November 02, 2012
To meet their increasing mobile power demands while achieving their goal of greater sustainability, Fort Hood Texas is equipping 25 on-base military police vehicles with Energy Xtreme's mobile electric power idle reduction systems. The mobile electric power idle reduction systems will provide the on-base military police the ability to power the demanding electrical needs of their vehicles without engine idling.
With 158,706 acres, Fort Hood is the largest active duty armored post in the United States Armed Services. Due to the sheer size of the property, the economic and emissions contribution Fort Hood makes to the state of Texas is significant.
Energy Xtreme's mobile electric power idle reduction systems are a smart power management device that provides power, without engine engagement, to vehicles with demanding electrical needs. For Fort Hood, the system allows their police cruiser's full electrical systems - including lights, onboard camera, computer and radio - to operate without having to idle the vehicle's engine for at least four continuous hours. The system automatically recharges while the vehicle is being driven. It saves fuel by increasing the vehicles MPG and reduces emissions by eliminating the need to idle, extending the life of the vehicle by mitigating engine wear and tear. Additionally, the system is completely silent and doesn't leave a heat trace, providing stealth capabilities.
In addition to a projected annual fuel savings of more than $110,000, Energy Xtreme's mobile electric power idle reduction systems will help Fort Hood's on-base military police become less dependent on oil, perform less maintenance on their vehicles, mitigate vehicle down time and officer in-field time by eliminating dead batteries, and reducing Fort Hood's production and contribution of vehicle emissions. Fort Hood is a member of the Central Texas Clean Cities program and has developed partnerships with Texas Commission on Environmental Quality (TCEQ), Texas Department of Transportation (TXDOT), Texas Department of Public Safety and Texas Department of Health to help it provide a higher standard of conservation and achieve its federal alternative fuels and vehicle mandates.
Energy Xtreme, headquartered in Austin TX., is a mobile electric power company focused on developing intelligent power management systems with idle reduction capabilities. Named by Forbes as one of the most promising companies of 2012, we are dedicated to empowering fleet management and driving cost efficiency. Our award winning Independence Package® line of products provide unmatched mobile electric power for a vehicle's electrical needs, including lights, cameras, computers, power tools and hydraulic systems, without engaging the vehicle's engine. Our products have proven to help fleets significantly lower their fuel and maintenance costs while reducing emissions. Energy Xtreme's future-focused solutions are ideal for fleets in law enforcement, military, transportation, public works, telecom, utilities, oil and gas and work truck centric organizations. Some products described are made by Xtreme Power Systems, LLC. Additional information is available at http://www.energyxtreme.net. Follow us on Twitter@EnergyXtreme.