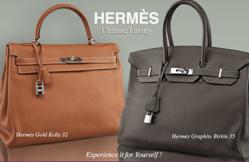 Hermes .... ultimate luxury.
(PRWEB) November 02, 2012
Rodeo Drive Resale (http://www.shoprdr.com), premier reseller of 100% authentic discount Hermes bags, Prada wallets, and Yves Saint Laurent bags and other beloved handbags, offers fashion fans amazing deals on a wide selection of bags during its new campaign dubbed, "Hermes Ultimate Luxury."
Items available for a limited time include a Hermes Gold Kelly 32 Clemence Handbag, Hermes Graphite Birkin 35 Clemence Handbag, and a Hermes Rare Raconte Moi Le Cheval Silk Rocking Horse Scarf, just to name a few.
Earlier this month, handbag lovers were treated to amazing deals on luxury bags during the "Any Color … So Long As It's Black," bag promotion.
While the phrase " … So Long As It's Black" may lead shoppers to believe all items featured will be in black, this is not the case: In addition to Vuitton and Dior, ShopRDR.com's promotion also features bags by Chloe, Marc Jacobs, Coach and Michael Kors in an array of colors, sizes and styles.
ShopRDR.com's "Ultimate Luxury," event is just one of several major promotions from the popular online reseller in the past several weeks, as shopRDR.com held its Labor Day Weekend sale and its animal print campaign, "Walk On The Wild Side" last month. The successful Labor Day Weekend sale offered savings of up to 25% off all designer clothing and an additional 15% off all designer shoes with free shipping on orders of $200 or more, as well as 10% off all designer handbags, one of fashion's greatest investments, noted shopRDR.com co-founder Raya Jaffer: "Designer handbags typically do not go out of style, which is good because they can last for many years."
At Rodeo Drive Resale, an online luxury resale store with over a decade in the business, shoppers can choose from an array of designer items that include handbags, shoes, jewelry, accessories and watches. Their clients, which range from everyday bargain hunters to high profile celebs, are guaranteed 100% authenticity on every item in stock, which store co-founder Raya Jaffer says equals guilt-free shopping.
As the year inches closer toward the holiday season, Raya says searches of these brands will likely increase, with many top designers offering more reasonable prices to buyers hoping to build their luxury collection.
"Expect to see the rise of the brand savvy shopper this holiday season, particularly when it comes to high-end fashion. Designers like Coach and Gucci, once considered elite fashion among midrange shoppers, have become much more affordable in recent years," she says.
*Handbag Storage Tip of the Day: Dirt, oil, and sweat can quickly turn a one-of-a-kind vintage Louis Vuitton bag into a spotty mess. Therefore, it is always a good idea to always handle these luxury items with clean hands. Also, avoid placing it on the ground – for even a short while. The three-second rule is a no-go when it comes to high fashion, and so for less than $20 bucks, a purse hanger makes the perfect luxury bag companion. Strong enough to hold most bags, purse hangers literally hang of the edge of the table, leaving your bag free from millions of germs on the ground, just waiting to ruin its pristine finish.
Rodeo Drive Resale (shopRDR.com) has built a reputation of providing amazing deals on handbags, clothing and accessories from the top designers of upscale fashion. The company offers a 100% guarantee of authenticity on each item sold, and works daily with a network of clients looking to buy, sell, or for consignment of their luxury goods.
ShopRDR.com loves high-end fashion, and believes finding a high quality, classic piece should be an easy, enjoyable -- and most importantly -- hassle-free shopping experience. For the finest in Louis Vuitton, Chanel, Prada, Gucci, St. John Knits, Christian Louboutin, Tiffany & Co. and more, visit RDR online at http://www.shopRDR.com or call 1-888-697-3725. Also find shopRDR.com's blog at http://blog.shopRDR.com.
Also find shopRDR at:
Blog: blog.shopRDR.com
Facebook: facebook.com/shopRDR
Twitter: twitter.com/shopRDR
YouTube: youtube.com/ shopRDR
Pinterest: pinterest.com/shopRDR
Rodeo Drive Resale (shopRDR.com)
1-888-697-3725
service(at)shopRDR(dot)com