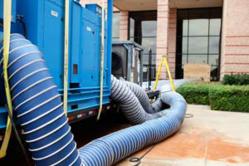 Establishing disaster preparedness and recovery plans are essential to any business.

- Shane Hobbs, owner of Dalworth Restoration
(PRWEB) November 01, 2012
Properties from Maryland to New York have been adversely affected by super storm Sandy, a fierce hurricane responsible for storm surges, massive flooding, power outages and all around destruction in just a few short hours. Dalworth Restoration disaster recovery and flood cleanup crews are equipped and ready to respond to the massive storm as it menacingly lashes the East Coast. Trailers with heavy-duty restoration equipment and experienced personnel are ready to restore large water damage losses, just like they did in recent hurricanes Isaac and Irene. Teams arrive in Maryland to lend commercial property cleanup and water damage restoration services to businesses that have been affected by the storm.
In severe storm situations, much like those experienced in the past couple of days due to Hurricane Sandy, Dalworth Restoration recommends that individuals listen to storm updates on the radio and TV. Individuals should board up their properties and stock up on water, medicine and non-perishable food, as well as battery operated radios and flashlights. In addition, if local authorities and emergency professionals mandate evacuation, it is best to do so. The risk of staying behind is not warranted and could result in loss of life.
A pre-storm preparedness plan for commercial enterprises includes the following:

Put together business emergency preparedness plan and establish team with concrete responsibilities in time of disaster recovery
Conduct emergency preparedness exercises for employees regularly throughout the year to accommodate business and personnel changes
Prepare physical business property by installing shutters, checking and repairing heating, cooling and ventilation systems
Backup computer systems and safely store company records and data
Backup phone system and consider investing in mobile or alternative phone system for times of disaster
Plan alternative storage facility for equipment
Establish an emergency phone number with recorded information to update employees with company status after storm
Advise clients and customers of planned company shutdown for duration of storm
Be informed and follow local government directions
Post-disaster business response and recovery include these steps:

Assess damages
Contact insurance and file claim
Contact water damage restoration professionals to begin recovery efforts
Implement debris removal plan
Rebuild physical infrastructure
Assess business financial situation
Establish plan to reopen business
Establish communications with employees, customers and vendors
Establish temporary framework to support business operations
Restore critical communications, network and data systems
Dalworth Restoration is a leader in commercial water damage restoration services. The company successfully handles disaster recovery and storm damage repair projects. Flood cleanup teams are ready to engage in commercial property loss and reconstruction assistance as a result of water damages due to Hurricane Sandy. To reach restoration crews, call 800-497-6118.
Dalworth Restoration is a licensed, bonded and insured company and is a member of the Better Business Bureau (BBB), Disaster Kleenup International (DKI Commercial Services), and Restoration Industry Association (RIA).
For more information about flood cleanup and water damage restoration services, visit http://www.dalworthrestoration.com.
Press Contact
Shane Hobbs
Dalworth Restoration
http://www.dalworthrestoration.com
800-497-6118