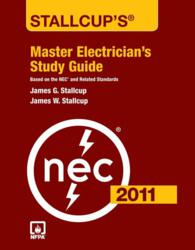 Burlington, MA (PRWEB) November 05, 2012
Jones & Bartlett Learning, an Ascend Learning Company, is pleased to announce the publication of Stallcup's Master Electrician's Study Guide, 2011 Edition.
To be successful on your Master Electrician's exam, you'll need to demonstrate extensive electrical skill plus comprehension of the National Electric Code®. Take the most practical approach to career advancement with Stallcup's® Master Electrician's Study Guide, 2011 Edition from respected authors and trainers James G. Stallcup and James W. Stallcup.
Based on the 2011 NEC®, this invaluable text provides a comprehensive review of the material covered on most Master exams, including:

Services
Switchboards
Grounding and bonding
Overcurrent protection
Raceways
Feeder-circuits
Generators and transformers
Motors and compressors
Residential and commercial calculations
ISBN-13: 978-1-4496-0577-3
MSRP: $99.95
Just Published and Now Available!
About Jones & Bartlett Learning (http://www.jblearning.com)
Jones & Bartlett Learning is a world-leading provider of instructional, assessment and learning-performance management solutions for the secondary, post-secondary, and professional markets. We endeavor to develop educational programs and services that improve learning outcomes and enhance student achievement by uniquely combining authoritative content written by respected authors with innovative, proven and engaging technology applications that meet the diverse needs of today's instructors, students, and professionals. Across a broad spectrum of fields ranging from medicine and emergency services to computer information systems, our educational technology applications and instructional assessment and performance-management solutions are revolutionizing how instructors teach and how students and professionals learn. With the most up-to-date, authoritative content available from academia and industry thought-leaders, Jones & Bartlett Learning is leading the way for educators, students and professionals to discover new educational and professional skill-development opportunities - enabling personalized learning, anytime, anywhere.
About Ascend Learning (http://www.ascendlearning.com)
Ascend Learning is a leading provider of technology-based educational, curriculum, and assessment solutions for the healthcare industry, and other vocational fields. It is renowned for delivering solutions that result in higher-performing student results at a lower cost, from nursing to health and fitness training to OSHA compliance training and insurance. Ascend Learning's family of companies consists of Jones & Bartlett Learning, ATI Allied Health, ATI Nursing Education, Boston Reed, ClickSafety, ExamFX, and the National Academy of Sports Medicine (NASM).