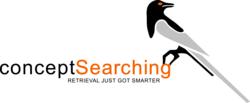 Concept Searching will have commercial sector clients and partners on hand, to discuss real-life scenarios on best practices and outcomes that can be achieved with Concept Searching's unique technology
McLean, VA, US and Stevenage, UK (PRWEB UK) 1 November 2012
Concept Searching, a global leader in semantic metadata generation, auto-classification, and taxonomy management software, and developer of the Smart Content Framework™, will be demonstrating its experience in solutions for the commercial sector at the SharePoint Conference 2012, November 12th-15th, in Las Vegas, Nevada, at booth 957.
Concept Searching will have commercial sector clients and partners on hand, to discuss real-life scenarios on best practices and outcomes that can be achieved with Concept Searching's unique technology, built on its award winning conceptClassifier product, delivering solutions in all SharePoint environments from SharePoint 2007 through SharePoint 2013, and Office 365. Commercial sector clients and integration partners include:

Find details about these, and more, industry solutions and organizations on the Concept Searching web pages about News and Blogs.
And last, but not least, Concept Searching is a proud sponsor of the 'SharePoint City' Party, to be hosted by Axceler exclusively for attendees at the SharePoint 2012 Conference, on November 14th in Las Vegas. Excited to be a part of this community experience, the Concept Searching team looks forward to seeing its friends, customers and partners at what promises to be a spectacular event. Space is limited so attendees should register now to be part of this SharePoint experience.
Follow Concept Searching: http://www.twitter.com/conceptsearch
About Concept Searching
Founded in 2002, Concept Searching provides software products that deliver conceptual metadata generation, auto-classification, and powerful taxonomy management from the desktop to the enterprise. Concept Searching, developer of the Smart Content Framework™, provides organizations with a method to mitigate risk, automate processes, manage information, protect privacy, and address compliance issues. This infrastructure framework utilizes a set of technologies that encompasses the entire portfolio of unstructured information assets, resulting in increased organizational performance and agility.
Concept Searching is the only platform independent statistical metadata generation and classification software company in the world that uses concept extraction and compound term processing to significantly improve access to unstructured information. The Concept Searching Microsoft suite of technologies runs natively in SharePoint 2007, SharePoint 2010, SharePoint 2013, FAST, Windows Server 2008 R2 FCI, Office 365, and in Microsoft Office applications.
The building blocks of Concept Searching's Smart Content Framework™ are being used by organizations from a diverse number of industries including the US Army, the US Air Force, the UK MOD, Baker Hughes, DAI, Deloitte, Logica, NASA Safety Center, OppenheimerFunds, Point B, Perkins+Will, Parsons Brinckerhoff, Burns & McDonnell, MarketResearch.com, the US Department of Health & Human Services, Transport for London, the London Fire Brigade, the National Transportation Safety Board, and Xerox.
Headquartered in the US with offices in the UK, South Africa and Canada, Concept Searching solves the problem of finding, organizing, and managing information capital far beyond search and retrieval. The technologies are being used to improve search outcomes, enable effective records management, identify and secure sensitive information, improve governance and compliance, add structure to Enterprise 2.0, facilitate eDiscovery, and drive intelligent migration. For more information about Concept Searching's solutions and technologies please visit http://www.conceptsearching.com.
All product and company names herein may be trademarks of their respective owners.