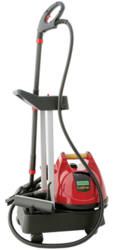 The Ladybug Tekno is an amazing device with a performance level too stunning to go unnoticed.
Lake Forest, Illinois (PRWEB) November 01, 2012
1-800-GO-VAPOR.com, a leading nationwide marketer of Ladybug steam vapor sanitization systems with customers in every state in the nation and seven foreign countries, is proud to announce that most of its customers rate their top-selling Ladybug Tekno 2350 system with five stars using PowerReviews.
PowerReviews works with hundreds of online retailers, including Staples, Toys"R"Us, Ritz Camera, Conair, Walgreen's, Radio Shack and The Sports Authority.
"Whether people are looking to sanitize the kitchen floor or kill bed bugs, we want our shoppers to have advice from people just like them," says V. K. Dunlop of 1-800-GO-VAPOR.com. "Partnering with PowerReviews allows confirmed buyers to rank our products on a scale of one to five and make comments. By doing this, not only do our shoppers receive feedback and credible reviews, but also we gain valuable insight into our products. It has always been our goal to offer the best."
PowerReviews is generally considered best-of-class in the customer review industry. Their tag-based review solution, which captures data using "tags," or succinct keywords about "Pros," "Cons," "Best Uses," and "Reviewer Lifestyle," is preferred 2-to-1 over Amazon reviews by consumers in research conducted by Keynote Systems.
"Thanks to our many loyal customers, whose confidence in us has led to our growth and success, 1-800-GO-VAPOR.com is a recognized leader in the steam vapor systems industry," says Dunlop. "That our highest priced system is our highest rated system doesn't shock or stun me. The Ladybug Tekno is an amazing device with a performance level too stunning to go unnoticed."
Ladybug steam vapor systems are the only steam cleaners on the market that offer the proprietary patented TANCS® (Thermo Accelerated Nano Crystal Sanitation) technology. When equipped with TANCS®, Ladybug systems qualify as disinfection devices for the U.S. Environmental Protection Agency and are scientifically proven to achieve a greater kill rate in 3 seconds than a 20-minute exposure to bleach.
"When you unpack a Ladybug Tekno, you immediately notice the yellow sticker on one side that says TANCS® in bold letters," says Dunlop. "TANCS® is a factory-installed internal component that modifies the crystal structure of the naturally occurring minerals in ordinary tap water to aid in the rapid destruction of microorganisms over a very broad range of pathogens."
Shoppers looking for a steam vapor system should spend time on the 1-800-GO-VAPOR.com website, reading the product reviews driven by PowerReviews.
"Find the system that's preferred by people like you," says Dunlop.
Located in Lake Forest, Illinois, 1-800-GO-VAPOR.com is moving fast to educate consumers and businesses that finally, there's a feasible, environmentally friendly alternative to chemicals. The company markets Reliable, Vapamore and Ladybug steam vapor systems worldwide, and manages its government and military buyers through SupplyCore. For more information, call 1-800-468-2767. 1-800-GO-VAPOR.com is a proud member of the Safer Chemicals, Healthy Families coalition, a nationwide effort to protect families from toxic chemicals. To stay safe and avoid toxic chemicals, keep abreast of the latest news with 1-800-GO-VAPOR.com's Twitter account, @1800GOVAPOR.