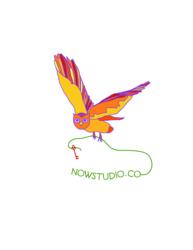 Chicago, IL (PRWEB) November 07, 2012
Change is good. After 12 years, NowStudio is getting a facelift with a new logo, website and domain. Nourhy.com was just too hard for people to remember and lend itself to a logo. NowStudio.co and the owl logo will be easier for people to remember.
In the beginning NowStudio was really an acronym for "Nourhy On Webster" but people always thought it was a take off on the Power of Now by Eckhart Tolle and it stuck because it matched what the work was about, focusing on the Now or present.
NowStudio is about holistic services to help relax and reenergize the body. Allowing your nervous system to relax can often help your mind refocus and feel clearer allowing your intuition to function better. Intuition is that part of you that guides one to make good choices. Too often people don't listen to that inner voice due to stress from their daily life and then start to feel out of sorts and often wind up at a dead end in their present life.
NowStudio, Owner Nourhy has been working for over 12 years in the holistic field and has helped many clients from all walks of life feel better about their lives with a dose of wisdom. Nourhy, once worked with a Doctor who had lost his sight and when he made the connection of how he had 'lost sight" how he wanted his life, his sight came back . Another client, that she worked with, was so angry and depressed, came to realize her own energy was holding her back, made the steps to be less angry which turned her life around to getting what she so desperately wanted, which now includes a great job and a family and a baby.
All sessions are tailored to a persons individual needs and can be more focused on what that person needs on that day. It can be more energy-work, massage, reflexology, craniosacral, or more Intuitive coaching...sometimes a mix of all. The most important thing is to make it relaxing and calming for the person. Holistic Healing can be fun and informative and heal you in a way you may not have thought of. Now with the fun new logo and website it may give one pause to try something out of the ordinary.